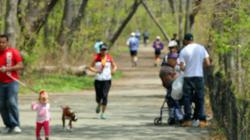 "These plans will cause many of the existing natural habitats to disappear."
New York, NY (PRWEB) May 14, 2013
Save the Putnam Trail is a grassroots group dedicated to preserving the converted railroad bed that runs through New York City's Van Cortlandt Park. This unique natural environment may become a thing of the past if the Parks Department goes ahead with its plans to pave over the trail. The group has released a video that shows folks enjoying the beauty and vitality of the Putnam Trail and presents its case for why the trail should be preserved. It is available on YouTube http://youtu.be/87V1uEHkjuI
"Inspired by Ms. Freed's words," says Suzanne Corber, a spokesperson for the Save the Putnam Trail Campaign. "We took our video crew to the Putnam Trail to invite people using the Trail on a typical Sunday to talk about what the Trail means to them. It is sacred ground for anyone wanting to get away from the Asphalt Jungle. We see streams of cyclists, couples, joggers, walkers, children, oldsters, fishermen and dogs enjoying the Trail. The video shows that the community is solidly in favor keeping their forty-year old nature Trail as natural as possible," declares Corber.
Guy Shahar, an award-winning director and a Bronx native, shot and directed. Vanessa Córdova-Corwin, award winning producer and director of "herFLiX," a movie review on-line and cable TV show, produced as well as crewed.
Will Sanchez, host and executive producer of the cable and on-line TV show "Gotta Run with Will," states, "Because the NYC Parks Department has plans to remove countless trees and widen the trail from 8 feet to 15 feet, including 10 feet of pavement, these plans will cause many of the existing natural habitats to disappear, thus irreversibly damaging one of the Bronx's most treasured retreats. This unique "Gotta Run with Will" shows what makes the Putnam Trail such a special place and why it should be preserved."
Save the Putnam Trail plans to show an excerpt of the video at Community Board 8's May 22nd hearing on the fate of the Trail. "We are asking for equal time as City Parks plans on doing its dog and pony presentation. Finally the folks have a chance to speak and see a proper resolution taken to the Full Board to deny approval of City Parks design plans as it is the will of the community," concludes Corber.