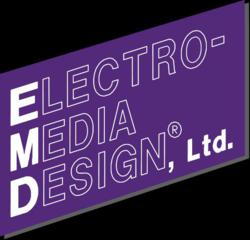 (PRWEB) May 13, 2013
From May 15th until May 17th, Electro-Media Design will be on hand to meet, greet, and treat any and all attendees. They can be found at booth #1264, and will be there from the event's open to close showcasing their expertise in Audiovisual Design, AV Operations, and Acoustics services.
The booth with be occupied by Jeff Loether, who was recently showcased as a "Future of Meetings Thought Leader" at the IACC's thought leader summit. He will be on hand to answer any questions and provide insight and information about their recent work with ITC Hotels in India, and their ever-growing expansion and their ever-growing into AV Operations Services. Electro-Media Design currently provides peer review services for developers and hotel management companies, as well as author hotel Master Design Standards for global brands.
Other areas of interest include the expo's keynote speaker, founder of Wilson Associates, Trisha Wilson, and music from the Bluz Brothers at the HD Opening Night Party. The annual Radical Innovation competition will be held with a record number of entries for 2013, which shall be moderated by Barbara Delollis, USA Today Hotel Check-In Editor. The Innovation Pavillion makes another appearance for 2013, which is a showcase for companies displaying the science and technology behind their latest designs.
Electro-Media Design would like to encourage all attendees to learn from the professionals, be inspired by the most creative, source product in one dedicated location, and network at the hospitality design industry's premier event. Attendees will have access to over 900 exhibitors' products and services, fully accredited conference sessions, and exclusive networking opportunities to strengthen existing relationships, and build new ones.
Established in 1992, HD Expo is the premier trade show for the hospitality design industry bringing together over 900 exhibitors and over 7,000 attendees to Las Vegas each May. Presented by Hospitality Design magazine, the show is at the forefront of offering the newest and most innovative products and services, encouraging and sharing ideas, providing inspiration and connecting the industry.
For the latest exhibitor list, floor plan, schedule and updates through the HD Expo mobile phone application, found here.
About Electro-Media Design
As independent consultants specializing in architectural acoustics and audiovisual systems design, we provide comprehensive consultation and design services in audiovisual technology and operations. As your principal resource, we will bring exceptional practical experience in design, procurement and operations to your project. Learn more at http://www.electro-media.com.