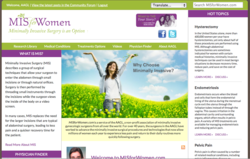 Our goal as an organization is to provide women the information they need to make an informed decision about their healthcare options.
Cypress, CA (PRWEB) May 14, 2013
AAGL, the world's premiere professional society dedicated to minimally invasive surgery (MIS) in gynecology, is launching its new patient web site, http://www.MISforWomen.com, in conjunction with the US government's National Women's Health Week celebration May 12-18. The web site offers patients education about the latest techniques in MIS as well as access to top gynecological surgeons who specialize in MIS.
MIS describes a group of surgical techniques that allow the surgeon to enter the abdomen through small incisions or natural orifices. Surgery is performed by threading small instruments through the incisions while the surgeon views the inside of the body on a video screen.
In many cases, MIS replaces the need for larger incisions that are typical of abdominal surgery, which translates to less pain and faster recovery for the patient.
"Our goal as an organization is to provide women the information they need to make an informed decision about their healthcare options," explained Linda Michels, Executive Director of the AAGL.
"Hundreds of thousands of women suffer from pelvic health problems for which minimally invasive surgical treatments are available and effective, but many don't know where to turn for authoritative information. We have created MISforWomen.com as a go-to resource for answers to their gynecologic questions."
MISforWomen.com provides both educational and practical information in clear terms and an easy-to-use interactive format. Its primary features include a Medical Library, Video Library, Discussion Forum, Physician Finder, and Physician/Patient Blog.
In the Medical Library a woman can learn about her condition, diagnostic tests and treatment options in non-technical terms. The information has all been vetted by AAGL physicians and is provided in seven languages.
The Video Library offers taped segments with top practicing surgeons who explain how MIS alleviates or cures a variety of conditions.
Because many women are reluctant to discuss their intimate health concerns with family members or friends, an interactive Discussion Forum was developed. Here women can share their medical experiences with others who have been where they are and can also benefit from the comments of AAGL surgeons.
More first-hand information is featured in the Physician/Patient Blog, with editorial content by leaders in MIS as well as by women who have experienced MIS. To find qualified gynecological MIS surgeons who specialize in her particular problem, a woman simply enters some basic information and the Physician Finder provides profiles of relevant specialists in her area.
"We are pleased to launch our patient site in tandem with the national Women's Health Week that has been organized by the Department of Health and Human Services," commented Michels. "Our goals are perfectly aligned with this observance which seeks to empower women to take charge of their health."
"Historically the AAGL has focused on educating doctors to master the specialized skills and techniques required for minimally invasive gynecologic procedures. But that is only half the equation. We now want to broaden our initiatives to give women the resources they need to understand their condition and seek appropriate help," she said.
MISforWomen.com was made possible in part through generous support provided by Ethicon, a Johnson & Johnson company.
About AAGL
The AAGL is the first and largest organization in the world dedicated to gynecologic endoscopic surgery. Founded in 1971, AAGL works to fulfill its vision of serving women's health care needs by advancing the safest and most efficacious diagnostic and therapeutic techniques that afford less invasive treatments for gynecologic conditions. It does so by fostering the integration of clinical practice, research, innovation and dialogue. The global commitment of the AAGL to women's health care is embodied in its continuing medical education of physicians about the latest and best practices in minimally invasive gynecology. For the past 41 years, the organization has educated the world's finest surgeons so as to improve the lives of women everywhere. For more information, visit http://www.aagl.org.