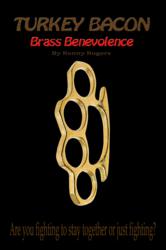 Orlando, Florida (PRWEB) May 13, 2013
Many relationships can be defined as Turkey Bacon –It's not real!
Actor/writer/director/producer, Kenny Rogers (founder of MFB Productions), publishes his latest fiction novel, Turkey Bacon Brass Benevolence, now available for purchase on Amazon.com.
The general reading audience will thoroughly enjoy this novel. Turkey Bacon Brass Benevolence offers a fresh and new way to entertain and teach readers the value of love and relationships. The Turkey Bacon book is a series of stories about relationships that are at the end or seem to be at the end of their romantic journey.
Couples that are near the ending point of their relationship often find themselves sitting in front of Dr. Kenneth Rogers, a fictional relationship therapist. Dr. Rogers has an outstanding track record with relationship repair. He has a one way or another approach to repairing interconnection. Most clients really don't understand the "one way" or "the other" that fixed their connection. The Turkey Bacon Brass Benevolence book is based on the Turkey Bacon short film also produced by Kenny Rogers/MFB Productions.
For an entertaining, thought provoking read, full of unexpected twists, purchase a copy of Turkey Bacon Brass Benevolence today on Amazon.com.
Contact:
Kenny Rogers
Email: kfrogers7(at)yahoo(dot)com
Phone: (863) 969-9505
Website: http://www.kennyrogersactor.com