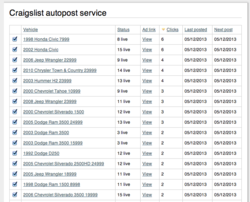 Don't spam Craigslist - having the same vehicle ad in search 10 times, won't get you 10 times more calls. The customer isn't stupid.
Scottsdale, AZ (PRWEB) May 15, 2013
60 million unique visitors go to Craigslist to buy every month. What are some of the tips and techniques used by the most successful auto dealers? MotorLot has learned from the best of these marketing wizards by providing Craigslist posting software to them.
Craigslist is a huge opportunity for auto dealers that know how to post successfully. Below are 10 tips for finding success posting to Craigslist.
1. Great Photos - Craigslist allows 8 photos per ad, use them to your advantage by showing outside to inside shots. The pros use the first image as an ad by placing a watermark of the dealership logo and a phone number.
2. Great Titles - call attention to the title by using characters like !@+&*.
3. Descriptions - keep it basic and funnel potential buyers to a phone number or link that goes to a landing page. Which leads to our next tip.
4. Use landing pages - landing pages funnel the customer from an ad, gives more information on the vehicle with more photos and attempts to convert the user to a lead through email or a phone call.
5. Use call tracking - how do you know which ads and cars have performed the best? With call tracking you'll be able to see exactly which ad and vehicle a customer is calling about.
6. Don't spam Craigslist - having the same vehicle ad in search 10 times, won't get you 10 times more calls. The customer isn't stupid and at best will see that it's the same ad at worst think your company is shady.
7. Don't post the same vehicle more than once every 48 hours - per Craigslist's terms of service. Plus, why clog up the search? Compete by having a better price, title, ad and landing page.
8. Post cars under $25k - they tend to do the best.
9. Don't post new cars - it's tough to get sales posting new cars.
10. Be prepared for changes - Craigslist is known to keep marketers on their toes! It's all in an effort to make the product better. Be prepared for changes and willing to adapt.
Want to supercharge your Craigslist ad posting? MotorLot's new Craigslist auto posting tool makes tedious, by-hand posting a thing of the past by creating great ads that convert and saving you hours per day. Learn more about MotorLot's Craigslist auto posting software used by the best car dealerships across the United States.
About MotorLot (http://www.motorlot.com)
MotorLot is the only web based all-in-one tool designed for independent auto dealers to more easily and effectively manage their dealership. Simple, intuitive software that offers web sites, marketing, CRM, desking and accounting right in the web browser. Founded in 2009, MotorLot has dealers in all 50 states.