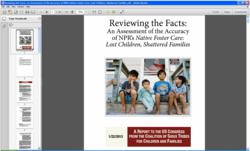 We have an alarming situation. In the State of South Dakota, we lose about 742 Indian kids every year. That's two per day. (Attorney Chase Iron Eyes)
(PRWEB) May 12, 2013
The Standing Rock and Oglala Sioux Tribes will work with KOLC-TV of the Oglala Lakota College in Rapid City, South Dakota, to live-stream the Great Plains Indian Child Welfare Act Summit. The gathering will take place on Wed, May 15—Fri, May 17, 8 AM-5 PM. The stream will be viewable at http://k.olc.edu/Channels/live_stream.htm and will reach 3/4 of South Dakota via the cable television station KOLC-TV.
The summit is being sponsored by the Bureau of Indian Affairs and is the result of two years of intense organizing by tribal leaders and NGOs to end alleged violations of the Indian Child Welfare Act(ICWA) by the State of South Dakota. ICWA requires that Indian foster and adoptive children be placed by state agencies with their kin or tribes. But, in South Dakota 740 Lakota children are taken into foster care by the state each year and 90% are placed into non-Native homes and institutions, according to a recent report by the nine federally-employed ICWA directors from South Dakota.
The summit next week will feature tribal leaders, Indian Child Welfare Act experts, lawmakers, BIA officials, and a civil rights attorney from the Department of Justice. The conference will explore solutions to the long-standing ICWA crisis in South Dakota, first exposed by a 2011 Peabody Award-winning broadcast by National Public Radio. The assistant secretary for Indian affairs for the Department of Interior, Kevin Washburn, will engage with tribal leaders at the summit, and subject matter experts will include Judge B.J. Jones of the Sisseton-Wahpeton Oyate Tribal Court, and Judge William A. Thorne of the Utah Court of Appeals.
Tribal officials from both Standing Rock and Pine Ridge are accepting press interviews. For Standing Rock, call 701-854-3095, or email tiron[at]standingrock.org. For Oglala Sioux, contact President Bryan Brewer's office at 605-407-9909, or the ICWA office at 605-867-5805, juanitascherich(at)yahoo(dot)com.
Now on contract with the Standing Rock Sioux Tribe, the Lakota People's Law Project (LPLP) has been partnering with tribes and leaders in South Dakota since 2005 from its offices in Rapid City, SD and Santa Cruz, CA. LPLP's activities have included funding and supporting Native experts to provide technical assistance to the tribes on family and child welfare issues. The project combines public interest law, research, education, and organizing into a unique model for advocacy and social reform.
The Lakota People's Law Project is sponsored by the non-profit Romero Institute based in Santa Cruz, California. The Institute is named after slain human rights advocate Archbishop Oscar Romero of El Salvador. The Institute seeks to identify and dismantle structural sources of injustice and threats to the survival of our human family.