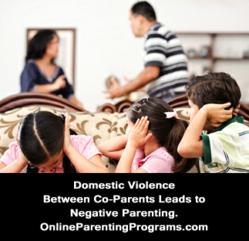 ...domestic violence between parents has been linked to negative parenting and child maladjustment
Carson City, Nevada (PRWEB) May 16, 2013
Online Parenting Programs.com today announced the integration of Domestic Violence while Co-Parenting, a new 25 minute section to their mandated online co-parenting programs. A divorce or separation with children involves difficult decisions regarding child custody. If the divorce was predicated by domestic violence, the custody decision often prolongs the abuse. Will the mother and father be able to co-parent without a recurrence of violence or controlling behaviors? That's the most important consideration in making child custody decisions. Family courts are beginning to recognize and notice that even when the marriage ends, the abuse may continue. It is also important to note that domestic violence between parents has been linked to negative parenting and child maladjustment. When the co-parenting alliance is broken, parenting quality and child adjustment are directly affected. OnlineParentingPrograms.com offers insight on what to be aware of in order for families to stay safe.
Family courts across the country are now mandating online co-parenting programs to integrate information regarding domestic violence in an effort to bring about awareness and better advise those that find themselves in a dangerous or abusive situation. Courts are trying to better evaluate custody situations to evaluate parents that claim violence with their co-parent.
"Abusers are not easy to spot. There is no 'typical' abuser. In public, they may appear friendly and loving to their partner and family. They often only abuse behind closed doors. They also try to hide the abuse by causing injuries that can be hidden and do not need a doctor." said Lori LaVigne, Education Director for Online Parenting Programs.com. "While the majority of domestic violence victims are women, abuse of men happens far more often than you'd probably expect. Typically, men are physically stronger than women but that doesn't necessarily make it easier to escape the violence or the relationship. An abused man faces a shortage of resources, skepticism from police, and major legal obstacles, especially when it comes to gaining custody of his children from an abusive mother. No matter your age, occupation, or sexual orientation, though, you can overcome these challenges and escape the abuse. The information we provide is paramount for us and we are happy to be working together with the counties on this project to further the awareness of domestic violence."
Research has indicated that it is common for some form violence to take place right after you and your co-parent initially separate, due to anxiety, anger, and frustration with life changes, and feelings of loneliness that arise when your children are staying with your co-parent. Online Parenting Programs.com has integrated an expanded section the new section to the 4, 6, 8 and 10 hour co-parenting programs.
OnlineParentingPrograms.com is dedicated to educating families in transition. Guided by a strong development team, OnlineParentingPrograms.com works with experts throughout the United States to provide its members with the most comprehensive information and resources for educating and raising children between multiple homes. For more information about Online ParentingPrograms .com and its team of experts, visit http://www.OnlineParentingPrograms.com.
Media interested in setting up an interview with OnlineParentingPrograms.com representatives regarding the online program should contact Lori Lavigne in the development planning office (866-504-2883 or lori(at)OnlineParentingPrograms(dot)com).