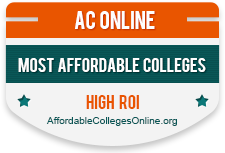 San Francisco (PRWEB) May 13, 2013
AffordableCollegesOnline.org (ACO) has released its 2013 rankings of the Most Affordable Colleges with a High Return on Investment (ROI). ACO reviewed 875 colleges to compile a list of the 50 schools that are both affordable and provide students with the best bang for their buck after graduation. The return on college investment comes in the form of higher salaries throughout the careers of graduates from these colleges.
"This is an important list for prospective students to consider," says ACO founder Dan Schuessler. "Many students don't have the financial means or are not comfortable taking on mounds of debt to attend an expensive college. The colleges ranked here are affordable yet still provide students a solid return on their tuition investment."
The rankings were compiled via a three-step process. First, ACO developed the following criteria for consideration as an affordable college:

Four year US schools with total four year tuition of less than $40,000
Either Public or Private
Non-Profit
Fully accredited
ACO compiled a list of schools meeting these criteria by using the following highly respected, authoritative data sets:
NCES (http://nces.ed.gov/), the primary federal entity for collecting and analyzing data related to education. It provides consistent, reliable, complete, and accurate indicators of education status and trends.
IPEDS (http://nces.ed.gov/ipeds/), the primary federal source for data on colleges, universities, and technical and vocational postsecondary schools in the U.S.
Carnegie Classification (http://classifications.carnegiefoundation.org/), a framework widely used in the study of higher education, both as a way to represent and control for institutional differences, and also in the design of research studies to ensure adequate representation of sampled institutions, students, or faculty.
Lastly, ACO calculated the Return on Investment by subtracting the cost, or investment, in college from the return of incremental salary expected from earning the degree at a specific college. Using Payscale.com (http://www.payscale.com), the premier salary data collection organization, ACO was able to determine which institutions' 30-year net ROI were highest.
"While most of the colleges in the rankings are public, it is becoming more challenging for these schools to keep tuition prices down as states cut higher education funding," cautions Schuessler. "We will continue to look at the available data and will release an updated list in Fall 2013."
AffordableCollegesOnline.org provides prospective college students and their parents with information and resources to help them manage the cost of obtaining an education. It's the first website to offer comprehensive lists of "Most Affordable Colleges" in different categories. In addition to lists of affordable colleges, ACO provides information related to financial aid and some unique features, such as:
A directory of free online "101" courses offered by such schools as MIT and UC Berkeley.
A comprehensive video that demystifies the FAFSA (Free Application for Federal Student Aid) process
Tips and advice from leading financial aid officers
The latest information on government initiatives to make college more affordable
Affordable Colleges Online: Ranking of Affordable Colleges with High ROI
1. Georgia Institute of Technology
2. State University of New York at New Paltz
3. University of Virginia – Main Campus
4. Texas A&M University - College Station
5. Virginia Polytechnic Institute and State University
6. College of William and Mary
7. California Polytechnic State University – San Luis Obispo
8. Massachusetts Maritime Academy
9. University of Maryland – College Park
10. Missouri University of Science and Technology
11. University of Washington – Seattle
12. Brigham Young University – Provo
13. Stony Brook University
14. The University of Texas at Austin
15. Purdue University – Main Campus
16. SUNY at Binghamton
17. University of Connecticut
18. University of Wisconsin – Madison
19. University of Massachusetts - Amherst
20. Embry-Riddle Aeronautical University – Worldwide
21. University of Colorado – Boulder
22. James Madison University
23. California Sate Polytechnic University – Pomona
24. George Mason University
25. University of Florida
26. The College of New Jersey
27. North Carolina State University at Raleigh
28. Texas Tech University
29. University of Delaware
30. Auburn University
31. San Jose State University
32. Washington State University
33. Iowa State University
34. Oregon State University
35. South Dakota School of Mines and Technology
36. University of North Carolina at Chapel Hill
37. University of Rhode Island
38. University of Maryland – Baltimore County
39. California State University – Fullerton
40. Ohio State University – Main Campus
41. University of Oklahoma – Norman Campus
42. University of Alabama at Huntsville
43. San Diego State University
44. University of Mary Washington
45. University of Georgia
46. Louisiana State University and Agricultural & Mechanical College
47. Oregon Institute of Technology
48. University of Iowa
49. University of Buffalo
50. Ramapo College of New Jersey
CONTACT: Dan Schuessler
EMAIL: dan(at)affordablecollegesonline(dot)org
WEBSITE: http://www.AffordableCollegesOnline.org