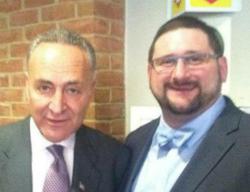 Staten Island, New York (PRWEB) May 14, 2013
Castleton Corners attorney Richard A. Luthmann has formed an Exploratory Committee to test the waters for a run at the Staten Island Borough Presidency. Luthmann will seek the local Richmond County Democratic Party County Committee's endorsement at the County Convention to be held on Monday, May 20 at the Crystal Room in South Beach, Staten Island. Mid-Island City Councilman James Oddo has already announced his intentions to run for the seat under the Republican and Conservative lines.
Luthmann has been steadily garnering support of the local party and has penned a letter to the County Committee that outlines his vision and urges support to his cause. "I look at the fact that we have not had a Democrat as Mayor of the City of New York for twenty years or as Borough President for thirty years and I think we need a new course for Staten Island," Luthmann said.
Luthmann, 33, is a native Staten Islander who believes that voters should use this election as a referendum as against the existing Mayoral administration and the Mid-Island Councilman's record. "I saw Jimmy Oddo's slogan: "It's a new day." It's more like the Bill Murray movie Groundhog Day because all his administration would be is a regurgitation of years and years of the same failed policies," Luthmann said.
One of the biggest reasons that Luthmann is considering a run is due to the political climate on Staten Island. He believes that Jimmy Oddo has crossed the wrong people politically. "Everyone knows that Guy Molinari remains the "King-Maker" on that side of the aisle. He controls the pawns, the knights, the rooks and the bishops. If Oddo is content with being a queen, then it is what it is," he said. Luthmann continued, "Many believe that Oddo crossed the line with his Board of Elections shenanigans and other recent moves," Luthmann said, referenceing the Staten Island Advance's poltical coverage on February 17, 2013. "I'm content to let nature take its course. The common belief is that the one man that can defeat Jimmy Oddo is Jimmy Oddo," Luthmann said.
When asked about early Staten Island Democratic Party support of Oddo, Luthmann was quick to point out that all issues will be resolved at the upcoming County Convention. "There may have been some people who were confused with the Party's position or who were trying to hedge their bets because Oddo had such a head start financially. I have full confidence that our Party Leader will do the right thing by the rank and file of our Party, and we will have a competitive election this fall," Luthmann said.
James Oddo has raised a war-chest of nearly $450,000, with more expected to find its way to his coffers before November. When asked about that daunting head start, Luthmann was not deterred. "We are Democrats. We're never going to out-raise or out-spend the other side. We win because we are determined and we are right. We out-work, out-sweat and out-hustle the other side," he said.
Luthmann continued, "But to that end, I am a small business owner. One of the reasons why I am looking at this race is because I have been urged by members of the business community to hold an out of touch, career politician accountable and these people are willing to put their money where their mouths are." Luthmann conveyed how, at a recent Staten Island Economic Development Corporation event, Mr. Oddo scoffed at a business owner who asked the Councilman how his office had "tightened its belt" in the economic downturn. "This guy is the fourth largest financial services employer on Staten Island and he hasn't taken a pay raise in five years. Yet this guy [Oddo] has the audacity to question him. I only know of one job that Oddo has created in recent memory - Joe Borelli's. And now he's trying to create a second one for Steve Matteo."
Luthmann has said that he will wait until after the Richmond County Democratic Convention to make any formal announcement.