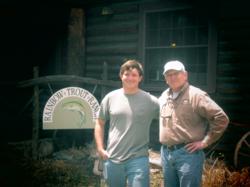 "I d love to go back 14 years and have that summer job again. Best one yet, hands down." Ben, Rainbow Trout Ranch staff member, 1996.
Antonito, CO (PRWEB) May 14, 2013
Taz Lester was the first staff member to arrive at Colorado dude ranch Rainbow Trout Ranch to begin work for the summer. Eleven other staff members arrived throughout the afternoon, with more set to arrive in the next two weeks before the official start of the ranch's twenty-first season on May 26, 2013.
Doug and Linda Van Berkum own the ranch and run it with their son and daughter-in-law, David and Jane. Linda takes the hiring very seriously, spending the off-season handpicking each member of the staff. "I talk to each applicant numerous times, in addition to checking all their references in depth" she says, adding that "our staff is so important and we want each one to be the exact right person for the position."
Staff have specific roles during the dude ranch season, but the next two weeks will find all members of staff doing any and everything in order to get the ranch in pristine shape for guests. Cleaning is intensely thorough--each of the logs in the massive lodge is cleaned by hand, much of it on scaffolding and ladders in order to reach the apex of the 40 ft ceilings. In addition, each cabin is attended to in minute detail. "Just because they are historic, doesn't mean that they can't be spotlessly clean" Linda Van Berkum says of the lodge and cabins.
The staff will number thirty-one by the end of May, with numbers lowering in mid-August when many of them go back to college. Many staff members return for multiple summers and consider the ranch a major part of their lives. Indeed a staff member from 1995 posted on the ranch Facebook page recently: "I want to rewind 18 years and come to work at the ranch again! Good times--the best!"
About Rainbow Trout Ranch
Rainbow Trout Ranch is a family owned dude ranch in excellent standing with both the state and national dude ranching associations, and exclusively five star reviews on Trip Advisor. The ranch has a long tradition of providing superb western hospitality for families, couples, groups and singles looking for an adventure vacation in the Rocky Mountains of southern Colorado. Inquiries can be made to 800.633.3397 or the website.