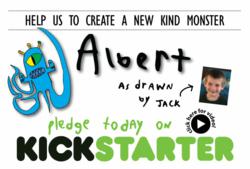 This is a project that will get kids up off the couch, away from the TV, and out in the world making a difference.
Indianapolis, IN (PRWEB) May 13, 2013
Promise Monsters, an Indianapolis-based toy company, is launching a Kickstarter campaign to create a new plush monster - Albert - that will spread thousands of acts of kindness all over the world.
The Kickstarter campaign can be viewed at http://www.kickstarter.com/projects/promisemonsters/spread-kindness-with-usa-made-stuffed-monsters.
"This is a chance to use Kickstarter to not only support a family-run company with USA made products, but also to support a project that will create acts of kindness all over the world," says Michael Bogan, a co-founder of Promise Monsters. "This is a project that will get kids up off the couch, away from the TV, and out in the world making a difference."
Here's how Promise Monsters works:
Promise Monsters is a line of plush monsters, manufactured in the USA (Indianapolis), that spread sneaky acts of kindness. Every Promise Monster comes with a Monster Mission - a fun and sneaky act of kindness for kids to complete. When the kid completes his kind mission, Promise Monsters mails him a reward. Promise Monsters are sold at retail locations all over Indiana and Michigan, and can be bought online at PromiseMonsters.com. The company offers three main monsters (MSRP $29.95) and three smaller Smarshmallows (MSRP $11.95). All of the monsters were designed by the founders' children.
Through Kickstarter - the popular crowdfunding platform - Promise Monsters aims to raise $20,000 to fund manufacturing equipment to create the new monster, Albert, and his kind missions. Rewards for backers include the monster himself, Albert; donations of monsters to Riley Hospital for Children; picking the kind acts to be included with the monsters; and even the chance to have a backer's drawing made into a Promise Monster.
"Keeping our manufacturing in the USA is important," says co-founder Erin Bogan. "It's a huge part of who we are, and we've promised ourselves to keep it that way. This Kickstarter campaign, and all the kind rewards that we are offering to our backers, will help us to keep that promise."
Read the collection of kind stories from children who have completed their kind missions, and learn more about Promise Monsters, by visiting PromiseMonsters.com.
The Kickstarter campaign starts May 13th and ends June 12th.
Contact:
Michael Bogan
michael(at)promisemonsters(dot)com
8263 Indy Court
Indianapolis, IN 46214
Ph: 317-698-1545
About Promise Monsters
Promise Monsters was created in 2009 by co-founders Michael Bogan and Erin Bogan, and their children. Promise Monsters is based in Indianapolis, Ind., where the high-quality, kindness-based plush toys are designed, sewn, and assembled. The toys can be found online and in independent retailers. For more information visit PromiseMonsters.com.