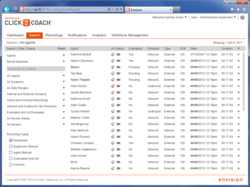 At Envision, we recognize the critical role we play in equipping contact centers with the best tools to service their most critical asset - their customers.
(PRWEB) May 13, 2013
Envision (http://www.envisioninc.com), a leading provider of software that transforms customer relationships, today introduced its new version of the industry-leading quality management and coaching product, Click2Coach v11.0, featuring a new, next generation interface, which improves workflow and performance and adds multi-dimensional analytics that break down agent performance into a comprehensive Net Performance Score.
The new version provides contact centers with significant new functionality for supervisors, training managers and agents:

Net Performance Score is the result of multidimensional analytics that summarizes the quality monitoring score, agent adherence, back-office activity, speech analytics and customer survey results into one performance score that can be used for improving agent effectiveness in all areas.
Next generation user interface provides users with a clean, easy-to-use style that models a distinctive Web-based look and feel and experience to more efficiently perform day-to-day activities.
Improved workflow and performance provides quick access to all functionality, fully utilizes the desktop space and plays back recordings within seconds, all of which allows supervisors to complete evaluations and coaching with greater ease and speed.
Flexible search gives users a freeform search field to quickly and precisely find the interaction recordings that matter most, as well as provides several options to filter interactions by agent, date, duration, inbound/outbound, evaluated/not evaluated, etc.
"We have many of the tools in place to gain insight into what our customers are saying and thinking," said Perry Kendall, Director, Global Reservations Services, Delta Hotels and Resorts. "We're working with Envision to enhance these capabilities, and Click2Coach version 11 is going to help us further our quest to use this valuable data to adapt to changing customer needs."
Since the introduction of Click2Coach to the market in 2000, Envision has built upon its proven technology to provide features that are most vital for customer-centric organizations to successfully operate and grow their business through superior customer interactions. Many leading organizations with thousands of users rely on Click2Coach to help them optimize their contact centers and transform their customer relationships.
"At Envision, we recognize the critical role we play in equipping contact centers with the best tools to service their most critical asset – their customers," said John Rake, director, product management, Envision. "It's important for organizations to collect all the right data from customer interactions and agent activity in order to quickly spot trends so they can make both operational and strategic improvements that have an intelligent impact on the business and keep their customers happy."
Click2Coach v11.0 will be available at the end of Q2. For more information about the product, visit http://www.envisioninc.com/click2coach_version_11.
About Envision
Since 1994, Envision has been providing solutions to optimize organizations by turning data from customer communications into action, which makes an intelligent impact on your business and leads to exceptional customer experiences. Data from phone, e-mail, chat and social media interactions can help quickly identify trends, optimize operations and transform customer relationships. Envision delivers innovative software solutions to optimize your workforce with our integrated, web-based solution, which includes voice of the customer analysis, performance management, desktop analytics, speech analytics, compliance recording, quality management, workforce management and coaching and eLearning. For more information, visit http://www.envisioninc.com.