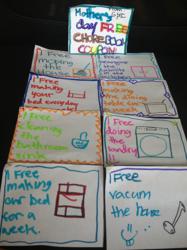 "Being a full-time mother is one of the highest salaried jobs ... since the payment is pure love" - Mildred B. Vermont.
(PRWEB) May 13, 2013
Over 141 million Mother's Day cards are estimated to be exchanged annually in the United States, making it the third-largest card sending occasion ... "Greeting cards and the requisite breakfast in bed – that's the minimum today's millennium mom can expect for Mother's Day," says Kathryn Michaels. It doesn't matter if she's a soccer mom or a briefcase mom. If she's really lucky, she will get flowers, gifts, brunch outside with the family and a day to herself, spent shopping or at the spa. After all, the average person is expected to spend $168.94 on mom for Mother's Day 2013.
But is it enough?
There are 85.4 million mothers estimated to be in the United States - if she wakes up after Mother's Day feeling disappointed, especially when she thinks her partner didn't show her enough love and appreciation for her sacrifices as a mother, there is always the temptation to go looking for love elsewhere.
Ashley Madison, the online site for extramarital affairs, claims that female sign-ups increased by 439 percent on the Monday after Mother's Day 2012. It's the second biggest day for female sign-ups and the biggest for married women to join.
What can we do?
Taking a page from the kids' gift this year, "Mother's Day FREE Chore Vouchers" – here are some strategies fashioned from that gift to keep the imminent Mother's Day blues from hitting your home front.

"Make it timeless." Appreciation doesn't have to be limited to only a day. If the gift lasts beyond that one day, imagine the impact to the millennium mom's psychology when you continuously show you care.
"Make it on-demand." Let her decide when she needs more love and attention. There will be days when she needs a pick-me-up and those are the days when the gift will come in most handy.
"Make it meaningful." Put yourself in her shoes. Give her something tangible which she will appreciate. It is not about the money. It really is about the thought.
"Make her feel significant." She yearns to know that her efforts and sacrifices have yielded results. Show her someone thinks she is important and has been listening to her all this time.
"Make it fun." Let her see that you have taken some effort to make her feel appreciated. Give her some variety. Do not recycle last year's idea and give her the same gift again. If you take the trouble to make big plans to celebrate her efforts, follow through with them.
"Make it interesting." The millennium mom juggles many things on her plate, all at the same time. Make sure she stops and takes time for herself to enjoy the gift. She needs a break too. Give her time to play.
"Make it memorable." Remind her that you love her – not only because she is a mother, but because she's a wife, your best friend and a wonderful woman.
Kathryn Michaels is the author of Bedroom Secrets, a reality-inspired series about millennium moms. Her first book, "Crazy for Milk", discusses the emotional and physical journey of a new mother. Her second novel, "Sweet on Me", deals with the complexities of a sugar daddy relationship. She is currently working on her third book, which explores the temptations of extramarital affairs.
Sources: Hallmark, National Retail Federation's Mother's Day spending survey;
United States Census Bureau News, Profile America Facts for Features CB12-FF.