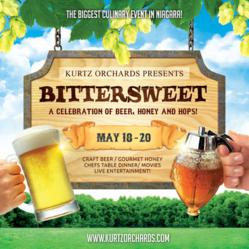 Niagara's Biggest Culinary Event for Victoria Day Long Weekend
Niagara on the Lake, Ontario (PRWEB) May 14, 2013
On Victoria Day long weekend, Kurtz Orchards is set to tantalize palettes by bringing Ontario's best craft beer, gourmet honey and fine foods out into the orchard. Bittersweet also marks the launch of Kurtz hop growing, the very first farm in Niagara to do so for the emerging craft brewing industry.
Bitttersweet Niagara takes place from Saturday, May 18 through to Monday, May 20 at Kurtz Orchards scenic farm located on 50 acres of lush orchards and vineyards on the Niagara Parkway. This event brings together an authentic culinary experience by connecting craft beer, gourmet honey and orchard-inspired food pairings from farm to table.
Event Highlights:
-A hand picked collection of Ontario's top craft brewers and gourmet honey artists, where attendees can mix and mingle with real brew-masters and beekeepers while indulging on epicurean delights. Look for Urban Beekeeping demonstrations by BEEGrrl - Fairmont Royal York's award-winning honey producer.
-Gourmet Orchard-inspired Cuisine. Palettes get ready! It's best of Niagara with a twist.
-Chef's Table Dinner under the stars and orchard canopy with Chef Stephen Treadwell. A Four-course beer, honey and hop inspired menu featuring the best of Niagara cuisine and Ontario Craft Beer, and served family-style under a canopy of pear trees.
-Dinner and a Movie – An Outdoor Cinema experience pairing Movies with Food. Movies connected to farm and food in a one-of-a-kind experience. For dessert, fire pits will be made available for attendees to create Smores.
-Marketplace full of gourmet culinary products to stock the pantry for the season. Over 90 culinary creations to choose from. Each guest starts off with a free gift of Kurtz Cabernet Sauvignon Wine Jelly with their day pass.
-Tour the orchards: explore the crop of hops and an orchard in bloom by foot or tram.
-Live Music: featuring performances by Serena Pryne, Beth Moore and Citizens of Rock & Roll
Kurtz Orchards family-owned and operated business continually develops new products to capture the flavour of the Niagara Region. It began over a half century ago as a vision by one pioneer from Europe with a traditional knowledge of agriculture and a deep respect for the land. Enjoy the best of their culinary farm estate products - from honey to wine jelly. Discover fine ingredients in over 90 culinary products available in retail locations in Niagara on the Lake, Oakville and Carmel-by-the-Sea, California and online.
"Drive down the scenic Niagara Parkway and stop by our farm to enjoy some of the best craft brews, gourmet honey and food. There is no better way to Kick off the Summer season" - Anne Just, Kurtz Orchards and Culinary Farm
Dates/Times: Sat., May 18th: 11am-7pm; Sun., May 19th: 11am-7pm; Mon., May 20th: 11am-4pm
Day Pass: At $15 each the pass includes admission to the event, a jar of Kurtz Cabernet Sauvignon Wine Jelly and entertainment. To purchase, please visit: https://www.kurtzorchards.com/shop/category/events/.
Event details: Please visit: http://www.kurtzorchards.com/bittersweet or call 1-888-909-2937.