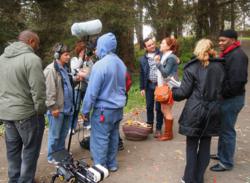 Creating shorts and sizzle reels is a great way to gain interest in producing a feature film.
San Francisco, California (PRWEB) May 13, 2013
Since moving from Oakland to San Francisco due to the foreclosure crisis, book and scriptwriter Gini Graham Scott has discovered a new way to raise funds for feature films – by creating shorts and sizzle reels based on the first scenes in the feature film and using these in fundraising campaigns on Kickstarter, IndieGoGo, Facebook, on other sites to produce the full length feature. She will even have a book on film funding techniques Finding Funds for Your Film or TV Project, to be published in Hal Leonard's Quick Guide series.
Her latest films using this approach include Dead No More, about a woman brought back after 20 years in cryonics suspension, and The Parking Lot, about a battle over a parking space by two women that escalates into a discovery of hidden secrets, attempted murder, and a dramatic car chase through the Presidio. Most recently a team finished filming The Suicide Party, about a man about to lose his house and all he holds dear, who decides to hold a suicide party with the help of his friends – if he raises enough to save his house and get back on his feet, he'll live; if not, he'll quietly end it all, leading to a media frenzy and unexpected results. Other films for which she has created short trailers and sizzle reels include The New Child and New Identity. The shorts can be viewed on YouTube at the following links for Dead No More, The Parking Lot, New Identity, and The New Child.
The three latest shorts were produced with crews from Scary Cow, a San Francisco film collective, and The Suicide Party and Dead No More turned into real Hollywood by the Bay productions, with a cast and crew of about 40 people each. Yet all the participants were volunteers, resulting in budgets of $1000-3000, with most of the funds contributed by 3 executive producers for Dead No More and a Scary Cow budget, since Dead No More won a membership award as one of three top films when the short premiered at the Castro Theater in March 2013.
Besides these shorts, Gini Graham Scott has written and produced over 50 short videos, and previously published T he Complete Guide to Writing, Producing, and Directing a Low-Budget Short Film, based on her experiences in producing these films.
Her next film to go into production is Deadly Affair, being written and produced by Richard Kuhr, to be filmed in the summer 2013.
Scott's videos are featured on the YouTube channel of her company Changemakers Productions. She also has written her amazing story of surviving and thriving after the mortgage meltdown left her with only $500 in the bank before she sold her house, moved to San Francisco a year ago, and turned her life around. The book is Living in Limbo: From the End to New Beginning.
Gini Graham Scott is the founder of Changemakers Publishing and Writing and the author of over 50 published books with major companies, as well as 30 books published by her own company Changemakers Publishing. She received a Ph.D. in Sociology from the University of California in Berkeley, a J.D. from the University of San Francisco Law School, and M.A.s in Anthropology, Mass Communications and Organizational/Consumer/Audience Behavior and Popular Culture and Lifestyles at California State University, East Bay. She is getting an additional MS in Recreation and Tourism in 2013. She has spoken about the topics of her books to many groups and the media, including appearances on Good Morning America, Oprah, and CNN.