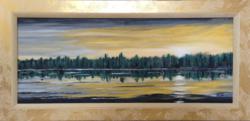 Y Lyn Dawel at the Celtic Manor
(PRWEB UK) 15 May 2013
2013 has been a good year for Pontypridd born artist Christopher Langley, 51.
Throughout summer 2013, in number one restaurant 'Terry M' at the Celtic Manor International Golf Resort near Newport, Langley will have a series of three paintings displayed.
They are titled the 'Llyn Dawel' series - The Tranquil Lake. Langley says, "I am delighted to be given the opportunity to have my work featured as a solo exhibition in this private dining area within the Terry M Restaurant."
He continues, "I've painted scenes which reflect the atmosphere and colours of this area, using shades of brown, creams and yellows. I've described a scene of a quiet lake at sunset, trees lining the edge reflecting as a mirror in the lake."
Langley currently has an exhibition at the Senedd in Cardiff Bay. He has received many favorable comments from visitors; local and international. Sponsored by Julie Morgan AM, the exhibition, which has free entry finishes on May 21st.
After on going displays at the Priory Hotel in Caerleon near Newport coupled with new displays at Japsers Tea Rooms in Llandaff High Street in Cardiff, Langley has also been invited to display his work at the Newbridge on Usk, part of the Celtic Manor Resort.
The Newbridge on Usk is described as 'an idyllic country inn offering stunning river views and delightful quirky character with its cosy nooks and crannies, oak beams and open fires.'
Langley will be displaying up to five pieces of his latest series based on his visit to Lisbon, Portugal. Acrylic on canvas with deep golds and reds, the series fits the mood of the Newbridge. "We are delighted to show this promising artists' work," says Celtic Manor director, Glenn Lewis. The paintings can be seen from May 17th 2013.
Langley is currently working on a series of his home town Pontypridd. Langley says he is available for commissions, both from private and commercial sectors.
He is sponsored by Matol UK, suppliers of Matol Km, a herbal drink of 13 herbs and 5 minerals. http://www.matoluk.com. For further information go to http://www.christopherlangley.net or contact Christopher Langley, Sanctuary Art, 34 Felbrigg Crescent, Cardiff CF23 8SE. Tel: 07792 295502.