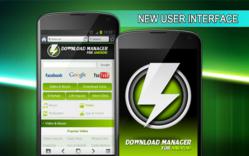 Renkmobil Bilisim has just launched the Download Manager for Android in Google Play.
Istanbul, Turkey (PRWEB) May 16, 2013
Mobile application creator Renkmobil Bilisim has just launched the Download Manager for Android in Google Play. Already installed by more than 3 million users, the file and video download app surpasses its predecessors and boasts download speeds that triple those of other download managers.
The download manager is very multifunctional; it serves as a browser, file manager, music player and download manager. Each of these four functions help users solve various problems given different situations.
The operation of the free app is also very easy. Users only need to copy and paste the URL to the address bar for the download to begin. Regardless of the file format or size, all files can be downloaded – even those larger than 2GB.
In addition to video download, the manager supports numerous file types, including APK, RAR, ZIP, MP3, DOC, XLS and others. The free app overcomes most of the limitations of other default downloaders, such as authentication, integrity checking, support for all file types and download life cycle management.
With an average user rating of 4.1 stars out of 10,359 surveyed, 6,486 users rated the app with 5 stars.
A Samsung Galaxy S3 user commented: "Great app, downloads so fast and very smooth. Keep up the good work."
Another 5-star rating said: "This is a really fantastic app. If you want to download your videos from Facebook and other websites, this app is for you. Thank you for the great job."
About Renkmobil Bilisim:
Our company's values are reliability, constant research, constant development, constant amendment, trueand close communication, loyalty, quality, and professionalism with an amateur soul. We aim to deliver innovative, user-friendly, easy, fast, secure projects and services that can create technologies and customer satisfaction by predicting the sectors needs.
Download address of Download Manager for Android in Google play:
play.google.com/store/apps/details?id=com.tt.android.dm.view
YouTube Video Review:
youtube.com/watch?v=GlLYFVjD2b8
For more information,please visit:
fddm.mobi
Contact Information:
Company: Renkmobil Bilisim
Website: fddm.mobi