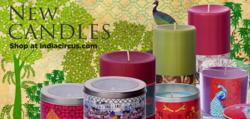 (PRWEB) May 14, 2013
India Circus, renowned designer Krsna Mehta's exclusive, contemporary-chic home décor, lifestyle, personal accessories, and apparel brand, brings to its customers a whole new world of light, luminosity, and love. India Circus has rolled-out a collection of scented candles, Incense sticks with holders & T- Light Votive s on their online shopping store http://www.indiacircus.com, which promises to light-up any home around the world.
These scented candles are available in a number of interesting colours, such as maroon, olive green, and purple. All the candles have India Circus' true-to-the-heart signature style — a touch of Indian-ness and ethnic flavor. India Circus' scented candles come in a variety of styles and scents. Compact and pretty, with an age-old charm, are the tin candles. Another great pick is the elegant candles with glass holders, and a tin lid. Both the holders have beautiful designs and images printed on them. From an image of the royal maharaja walking in the garden, to that of the graceful peacock, all the candles have a truly classic and chic look and feel. The candles come in a variety of fragrances, such as Mango, Wild Flower, and Passion scented etc.
India Circus takes the entire experience of fragrance and fantasies a notch higher with the incense sticks with holders that have pretty designs and rich art on them.
With its new range of scented candles and incense stick with holders, India Circus aims to bring in a new whiff and ray of happiness to the homes and lives of its customers.