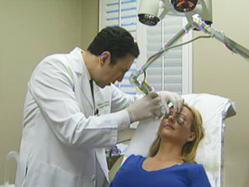 Los Angeles, California (PRWEB) May 13, 2013
According to an April 29, 2013 Miami Herald article entitled "The Skin Essentials that Help Turn Back the Clock" (go to goo.gl/mHo7W), having youthful skin is quite crucial for many in today's society. However, undergoing surgery is not always a desirable option for many. Fortunately, various other treatment options exist to tighten saggy skin, reduce and eliminate facial lines, and smooth wrinkles away.
"Of course we can discuss treatment options but the most important skincare tip I can give is prevent and minimize skin damage related to the sun's rays," says Dr. Simon Ourian, Medical Director of Epione Beverly Hills. "Use a quality sunscreen with an SPF of at least 30 every day."
The article recommends eating antioxidant-rich foods and taking dietary supplements as good preventive health measures. Examples of topical antioxidants include ascorbic acid, green tea, oxofullerane, idedenone, and resveratrol.
According to the article, injectable neurotoxins, such as Botox, Dysport, and Xeomin, can effectively turn back the clock. As the facial muscles move, they fold the skin many times creating new wrinkles. Neurotoxins can be used to smooth the lines on the forehead and the area between the eyebrows, as well as reduce crow's feet.
Dermal fillers can be used to add volume to the face and fill in static wrinkles. Some good examples of dermal fillers composed of hyaluronic acid include Perlane, Restylane, Belotero, and Juvéderm. Sculptra, made from poly-L-lactic acid is reported to stimulate collagen growth.
"Laser treatments are a non-invasive way of providing skin care that can be quite efficient at stimulating the production of new collagen and eliminating sun damage," says Dr. Ourian. "At Epione we offer a variety of treatments and modalities to arrest and reverse the visible signs of aging."
Dr. Ourian has been a pioneer in laser technology and non-invasive aesthetic procedures including Restylane, Juvéderm, Radiesse and Sculptra. These treatments are used for the correction or reversal of a variety of conditions such as acne, acne scars, skin discoloration, wrinkles, stretch marks, varicose veins, cellulite, and others. More information about skin care treatments can be found on Epione's website.