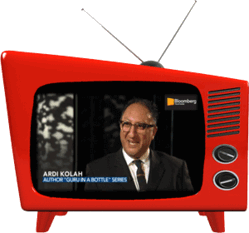 "The name of the game is now integration of product into movies like The Great Gatsby that helps to tell the story and doesn't get in the way oif the narrative"

Ardi Kolah, author of the Guru in a Bottle Series
London, UK (PRWEB UK) 15 May 2013
Back in 1974, little thought was given to the commercial value of the costumes worn by Robert Redford and Mia Farrow in The Great Gatsby.
Fast-forward to 2013 and the re-make of Scott Fitzgerald's epic has grossed USD50m at the US box office in its first weekend and looks set to break box office records for its UK theatrical release on 16 May.
Some critics have panned the film as 'disappointing'. But the same can't be said of the starring roles played by Moet & Chandon (champagne), Brooks Brothers (suits), Prada (cocktail dresses), Fogal of Switzerland (hosiery) and Tiffany & Co (jewellery) that steal the show and all look set to break sales records.
"Product placement isn't new. In fact Chanel signed a contract with Metro Goldwyn Meyer back in the '20s as Sam Goldwyn thought he could increase box-office receipts by showing Paris fashions to an audience hungry for escapism from the Great Depression.
"By the 50s, movies started to look like shop fronts full of highly desirable outfits that clung seductively to its leading ladies like Audrey Hepburn, Lauren Bacall and Jane Russell. And fashion designers like Hubert de Givenchy became as important as the Hollywood director Blake Edwards who directed Hepburn in the 1961 classic Breakfast at Tiffany's.
"Since then there's been no end of fashion brands wanting to turn entertainment into a successful marketing tool as consumers move increasingly towards on-demand channels like Netflix or the web to consume content where they can avoid the 30 second ad spot.
The name of the game is now integration of product into movies like The Great Gatsby that help to tell the story and don't get in the way of the narrative," explains marketing Guru Ardi Kolah.
Click the link to watch the Bloomberg TV news piece on product placement in The Great Gatsby, starring Leonard DiCaprio and Carey Mulligan.