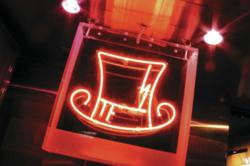 "We are very excited to be involved in re-designing Le Baron," says Rebecca James CEO of Interior Desires (UK) Ltd.
(PRWEB UK) 14 May 2013
Interior Desires, the award winning interior design firm, have just completed there latest design project for the Paris born nightspot Le Baron in London at the Scotch of St James, April 2013.
After a year of house hunting and many legendary parties, Le Baron is back, this time in the west end London speakeasy where "The Scotch of St James" used to be. Night owls' disappointment in hearing The Scotch had closed its doors in the venue where Jimi Hendrix played his first impromptu gig in England there, in 1966 will be quashed as they learn that Le Baron is moving in. Over the years it had become the local haunt for the London Underground rock scene including patronage from bands such as the Beatles and the Rolling Stones. Recently though it has also been known for its wild house-party-style nights, the club is frequented by a discerning crowd - including Kate Moss, Sofia Coppola and Benicio del Toro.
Interior Desires is behind the new design of the venue, which will aim to maintain the type of music traditional to the place, yet adding a darker, sexier and naughtier atmosphere. Expect Nu Disco and French resident DJs to inspire your moves and French maids in uniforms ready to serve you cocktails.
"We are very excited to be involved in re-designing Le Baron" says Rebecca James (CEO) of Interior Desires.
Interior Desires (UK) ltd is an award-winning architectural interior design company specialising in high end bespoke interior designer London services for restaurants, private members clubs, residential and commercial property. Established in 2008 and based in London, the team is headed by interior designer and creative director Rebecca James who has assembled a team of highly skilled craftsmen, furniture makers and artists to bring her designs to life. Previous projects include properties in St James's, Marylebone, Holland Park, Notting Hill, Kensington and Mannheim, Germany. All stages of the build from the preliminary tasks such as securing planning permission to bricks and mortar and soft furnishings are part of the services provided by the company.
For more information please visit http://www.interiordesiresuk.com/