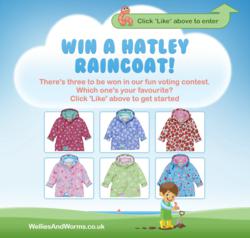 this is the second contest we've run on Facebook and we've been incredibly impressed with the amount of engagement they generate
(PRWEB) May 13, 2013
The leading UK kids outdoor clothing ecommerce retailer, Wellies And Worms has launched a new vote contest on Facebook, designed to drive consumer engagement and brand awareness of the site.
The Bristol based company, which launched 4 years ago this month, is asking fans to vote on their favourite Hatley girls raincoat from the Spring/Summer 2013 range. The coat that garners the most votes will be awarded as a prize to 3 random entrants who voted for it.
There are 6 designs to vote on: Summer Strawberries, Flying Butterflies, Icy Treats, Pretty Bunnies, Scribble Dots and Crafty Flowers all designed in-house at Hatley, the best-selling Canadian children's clothing brand.
Wellies And Worms Managing Director Graham Cox says, "This is the second contest we've run on Facebook and we've been incredibly impressed with the amount of engagement they generate amongst our fans and target market. The Hatley girls raincoat designs are as delightful and distinctive as ever this season and the vote contest provides a fun, engaging way for us to promote them to consumers. The contest has just launched and already the response has been fantastic."
The retailer grew revenues by 30% last year, thanks to it's commitment to outstanding customer service and value for money. The company also offers next working day courier delivery as standard and Free UK returns.
Graham continues, "We made great progress last year as we better positioned ourselves as a kids outdoor clothing specialist and refined our brand choice to include more mid-range and premium brands. We were delighted to start stocking great Scandinavian brands like Helly Hansen and Didriksons for example, and we will also be stocking the iconic Joules brand from later in the year."
To see the vote contest which runs to Sunday 19th May, click here. For further info about Wellies and Worms, visit WelliesAndWorms.co.uk.