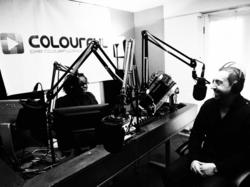 This digital footprint isn't just for the hereafter. Things you say online can affect you and your career in the here and now
London, UK (PRWEB UK) 14 May 2013
Steve Hutson, founder of innovative staffing company Superstars, returned to Colourful Radio last week to appear on Colourful Life with Jaxx Shepherd. This time, Jaxx wanted to talk about Digital Legacies - the footprint you leave on the digital world with your email, blogs and social media pages, what it can mean for you now and what could happen to it after you die.
"Your digital legacy is literally the story of your life over a period of months or years, but exposed to the general public," explained Steve. "You have to really try to control that because you can easily get a bit tipsy and post something you shouldn't!"
This digital footprint isn't just for the hereafter. Things you say online can affect you and your career in the here and now. Jaxx pointed to the recent example of Kent Youth Crime Commissioner Paris Brown, whose careless and offensive tweets led her to step down from her position. Steve agreed that people need to take their online presence seriously.
"The important thing about this is how are people embracing this social change?" said Steve, "My mum has only been on Facebook for two years and already she is going back on it and saying, 'Oops! Did I really say that?'"
The real point of this discussion was prompted by a new service that Google is offering to users of its services, aimed at sorting out your digital affairs after you pass on.
"This is purely for Google and Google products," explained Steve, "so, if you have a Gmail account and so on, Google will now let you choose who you want to look after your accounts afterwards."
This ability to delegate access to your logins is important, particularly as many online companies have a policy of only letting account owners access them.
Even though, informally, we may have our partner or family member's login details, there are a lot of sites that will not let you access their data for legal reasons.
Google has come up with a way of giving people access to your accounts if you pass on or are too ill to access it yourself. You can do this on a timeline so, say, after three months, six months or a year a password is mailed out to your nominated person.
Have you really considered the 'digital self' that will live on after you die?
Should digital privacy be respected in death or should we be able to take secrets to the grave?
Steve spoke about a friend of his, Robert Fransgaard, who recently lost his wife and had to deal with sorting out her digital life after she passed on.
"Robert and his wife were an amazing couple," he told Jaxx. "She was a very clever young lady and very active digitally as well. She had lost of passwords for various subscriptions, blogs and other sites.
"One of the biggest problems he faced was unsubscribing for mailing lists and in dealing with sites who specify that only the account holder can legally access their data. Robert made a moral decision to do so anyway but in a sense companies like Yahoo! are right to be that stringent as their responsibility is to the user.
Steve was keen to end on this quote from Robert, which sums up his feelings on digital legacies. "It will take a while before we accept digital as part of us, maybe even generations, but we need to stop thinking of digital as separate to our offline lives."
Steve Hutson will be back on Colourful Life next month. You can listen live via the Colourful Radio website or catch up with Steve's previous appearances on the Superstars YouTube channel.
Superstars is based on a unique new staffing model that eliminates fees and margins forever. Clients work with Talent Managers to get the best staff for their needs and the Talent get amazing opportunities and the best support and mentoring in the industry.
Superstars' clients include BSkyB, Orange, Infosys and Radical Company with more being added all the time.
To find out more about Superstars' unique staffing model and how it can transform the way you hire staff, contact Steve Hutson - steve(at)homeofsuperstars(dot)com or visit http://www.homeofsuperstars.com