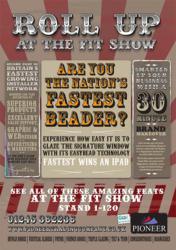 We are offering an iPad to the visitor that beads the Signature Window in the fastest time. There will be tenths of seconds in it, that's how easy it is. Listen for the cheering, that will be the Pioneer stand."
Chelmsford (PRWEB UK) 15 May 2013
The last thing that trade fabricator Pioneer Trading wants you to do at The FIT Show is hang around its stand. In fact anyone caught loitering will be pressed into action with a range of fun activities to find out how fast they are at beading the company's Signature window; how good their company could look with the help of Pioneer's 'Geek Squad' of Internet designers and branding experts; or how to join Britain's fastest growing Home Improvement Dealer Network.
Pioneer is spreading its Signature Network and looking for installers who are more than simply good at selling and installing windows. For Pioneer is the company behind the Signature Window, Britain's most advanced casement window. Designed and developed by Danny Williams, the company's managing director the Signature Window incorporates a host of features that provides Signature Dealers with a product that literally has no local competition.
The company's FIT Show stand is designed to allow visitors to see, touch and try the Signature Window for themselves to find out just how good it really is, as well as exploring the exceptional marketing and sales support in clearly defined areas provided by Pioneer's talented marketing and design team. They will also explain how it is introducing new products and opportunities under the Signature brand to provide further business opportunities for dealers, including Signature Solar.
"We genuinely have so much to offer installers joining our Signature Network that the only way we can really explain everything effectively is face-to-face," said Danny. "And that is the joy of a good exhibition such as The FIT Show. But as well as having a huge amount to tell visitors we also want them to have some fun too. So that's why we are offering an iPad to the visitor that beads the Signature Window in the fastest time. We reckon there will be tenths of a second in it, that's how easy it is. Listen for the cheering," said Danny, "that will be the Pioneer stand."
Issued by VAST PR on behalf of Pioneer Trading Ltd. For further information contact Paul Godwin on 0845 0945 775; email paul(at)vastpr(dot)co(dot)uk. February 2013.
Editors notes:
Pioneer Manufactures Windows, Doors and conservatories to the trade on two sites in Chelmsford Essex.
Pioneer Trading began over 20 years ago and is one of Synseal's longest serving customers. Pioneer employees have extensive experience and are highly trained with constant reviews of training requirements. The company's main trading area is the South East of England. The organisation operates a Quality Management System that has gained BS EN ISO 9001: 2000 certification, including aspects specific to the fabrication and supply of PVC-U windows doors and conservatory roofs.
The company's Signature brand has been developed to provide an exclusive network through which new products, marketing, sales support and training are provided. Begun with the Signature Window, said to be the 'most efficient window in Europe', a range of new home improvement ideas and concepts will be launched continuously using the qualities associated with the Signature brand. The first of these is Signature Solar.