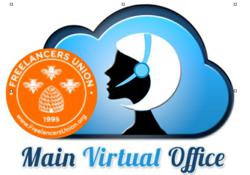 Portland, ME (PRWEB) May 14, 2013
Main Virtual Office announced today, that they have been selected to partner with the Freelancers Union, to offer the Union's more than 200,000 members a special offer when they signup for Main Virtual's live answering service and mobile app.
The Freelancers Union is the largest group of independent workers, freelancers and solopreneurs in the US. Early in her career, Sara Horowitz, couldn't get health insurance from her employer because she wasn't considered a fulltime employee. Recognizing that there were a lot of people like her, she founded the Freelancers Union to represent the nearly one-in-three Americans who cobble together paychecks through part time jobs or freelance work for multiple bosses. Sara is now widely considered the leading authority in the Freelancers community, having authored the Freelancers Bible. She was also recently appointed to the Board of the Federal Reserve Bank of New York.
While more than 5 million freelancers and very small businesses signed up for "virtual" phone systems, like Google Voice and Ring Central, over the last decade, many are now realizing that most of their new sales leads-potential new customers-are going to voice mail, where research says that more than 80% will hang up.
Main Virtual Office developed their cloud-based live answering service and mobile app specifically for one-man companies, freelancers and solopreneurs. Main Virtual's business model is different than every other answering service says Cofounder Jim Plunkett. "We actually strive to keep our customers minutes down by efficiently managing their calls. But, clearly, the main value that we bring is that we engage new sales leads, transfer them to our customers or get their contact info immediately to our customers so that they can respond to these leads quickly".
With freelancers and solopreneurs now 1 in every 3 workers in the US and projected to comprise half the US work force by 2020, those that continue to depend on voice mail instead of a live answering service for their incoming calls are putting themselves in a precarious position.
About Main Virtual
Main Virtual Office is a cloud based live answering service designed specifically for one man companies and micro-businesses (less than 5 employees). Based in Portland, Maine, Main Virtual's cloud-based answering service and mobile app beta released it's service to hundreds of solopreneurs, freelancers in late January and now is the leading cloud-based answering service for the nations smallest businesses.