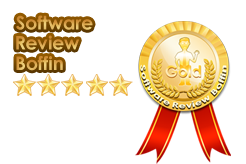 The basic parameters that guided the reviewers' software evaluation were ease of use, efficiency, reliability, and accessibility.
New York City, NY (PRWEB) May 19, 2013
The Boffin software review website has just released a set of bookkeeping software reviews informing its readers of the most efficient and reliable software products in this category. The Boffin reviewers examined a number of different bookkeeping software products, and concluded that Tiny Books for Macintosh should be the top bookkeeping software pick for 2013.
The basic parameters that guided the reviewers' software evaluation were ease of use, efficiency, reliability, and accessibility. These factors defined the ultimate ranking for each software tested, and are what placed Tiny Books at the top. Despite being exclusively released for Mac computers, Tiny Books is a thoroughly efficient bookkeeping program especially suited for homeowners and small-size businesses, according to the Boffin website. The Boffin reviewers particularly praised the software's design as it allows the user to easily update their data and instantly understand their finances with a few clicks.
The runner-up bookkeeping software is Basic Bookkeeping, a software which also features a streamlined, logical user interface, making it equally efficient, according to Boffin reviewers. The Basic Bookkeeping software offers the whole range of possible functions, features, and tools that a small to medium business might seek for its bookkeeping needs.
The third top bookkeeping software is Bookkeeping for Realtors, which was awarded a three-star rating by Boffin. A professionally designed software for realtors, the Boffin reviewers argue that its combination of must-have features and user-friendly interface allow realtors to save valuable time otherwise wasted on tedious data entry tasks.
The Boffin website provided a disclosure accompanying the reviews on bookkeeping software stating that all top three software products had only marginal differences in many respects. Additionally, the website noted that Boffin reviews are never final; when new releases or upgrades are available, the Boffin website re-evaluates the software product and thus offers up to date reviews on bookkeeping software. The reviewers pay special attention to the three top software products, and the Boffin reviewers apply a "frequent review" policy making sure Boffin website visitors are always provided with the latest developments.
Software Review Boffin reviews the latest technological products in demand on the market right now. They provide expert, honest and straightforward reviews so customers can objectively measure if a product, especially software is well worth it before making their purchase.
To learn more about Software Review Boffin visit http://www.softwarereviewboffin.com