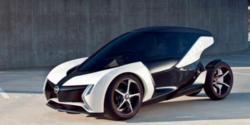 The Frankfurt Motor Show is one of the world's most prestigious automotive events.
San Jose, CA (PRWEB) May 13, 2013
Sept. 10 Opening for Frankfurt Motor Show
One of the world's largest and most prestigious automobile exhibitions, the Frankfurt Motor Show, will open on Sept. 10 and run until Sept. 22. The cities of Frankfurt and Hanover alternate hosting duties for the event, with Frankfurt taking the odd-numbered years. In 2011, the show was the site of almost 1,000 exhibits from all over the world. Organizers for the 2013 show are expecting approximately 1,000,000 attendees. For the complete story, see:
http://www.myperfectautomobile.com/audi/frankfurt-motor-show.html
IIHS Top Safety Pick is Nissan Leaf Electric Car
Nissan Motor Co. has achieved the auto safety hat trick, with three of its vehicles netting the prestigious Insurance Institute for Highway Safety (IIHS) "Top Safety Pick" designation for 2013. The all-electric Nissan Leaf, the Nissan Altima, and the Infiniti M37/M56 all scored high enough on the IIHS crash tests to earn the safety accolade. Infiniti is the luxury division of Nissan. The company's proprietary "zone body construction," according to Nissan's director of product safety, Robert Yakushi, can "…help protect occupants in a wide variety of crash scenarios." For the complete story, see:
http://www.myperfectautomobile.com/featured/nissan-leaf-safety.html
Toyota Upgrades TMG EV P002 for Pikes Peak Event
An upgraded Toyota Motorsport electric race car, the TMG EV P002, will attempt to better its 2012 record-setting performance at the upcoming Pikes Peak International Hill Climb on June 30. The car, considered by many to be not only the fastest but also the best-engineered electric race car in the world, will be piloted by New Zealand's Rod Millen in the grueling event. For the complete story, see:
http://www.myperfectautomobile.com/toyota/toyota-motorsport.html
About MyPerfectAutomobile:
MyPerfectAutomobile (MPA), a California-based news source for the hybrid, electric, and alternative-fuel transportation sector, covers breaking news on the green car front.
The MPA flagship website has grown into a major presence on the Internet. It features a complete shopping mall as well as a free-to-list classifieds section for all things green. For advertisers, MPA offers the chance to be in front of over 20,000 readers each month who are interested in hybrids and electric vehicles, as well as sustainable transportation in general.
Bob Twaalfhoven: President and Founder of MPA, is an MIT-educated engineer whose primary interest is planetary sustainability.
Larry Judkin, General Manger and Sales Coordinator, has tasked himself with taking MPA to the number-one spot among green transportation websites.
Contact MPA:
Box 18846
San Jose, Calif. 95158
For advertising opportunities, contact MPA directly: Phone: 866-520-5558
Email: driven(at)myperfectautomobile(dot)com Web: http://www.myperfectautomobile.com