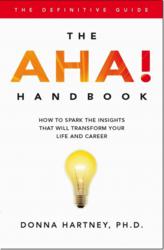 In research spanning more than 10 years, Hartney has found that it's possible proactively to prime oneself for life-changing insights.
Buffalo, NY (PRWEB) May 14, 2013
In caring for others, women can neglect themselves, putting their own health at risk. National Women's Health Week provides women with an opportunity to pause and take stock of their personal health needs. Donna Hartney, Ph.D. and "aha" moment self-help book author, says women can gain control of their health by remembering one of the pre-flight instructions provided by flight attendants.
"When we fly, we're instructed that if we need to use oxygen masks in flight, we should secure our own before assisting others. The same is true when it comes to our health," says Hartney, "aha" moment expert and the author of the self-help book The AHA! Handbook: How to spark the insights that will transform your life and career. "During Women's Health Week especially, make sure you put on your own oxygen mask before caring for others."
Hartney offers four tips women can use to make sure they've got their oxygen masks on:

Schedule the annual round of medical appointments. Make time today to schedule annual appointments – a physical, mammogram, pelvic exam, vaccinations. If the doctor's office isn't scheduling appointments far enough out, add a calendar reminder to follow up.
Become a savvy consumer of health advice. What about a daily dose of multi-vitamins, calcium supplements, or extra vitamin D? It can be difficult to make decisions amid evolving and often conflicting research reports. Watch for news of changing recommendations and ask the doctor about them. Weigh potential advantages and risks before making changes to health routines, and be sure to monitor the impact of those changes over the short and long term.
Make time for an emotional pick-me-up. Schedule phone time with a friend, quiet time for garden weeding, or online window-shopping. Identify the activities that add an extra zest to life and make them a priority by adding and protecting them on the calendar.
Set the stage for a pivotal "aha" moment. A sudden flash of clarity can deliver the commitment needed to make living a healthy life a priority. In research spanning more than 10 years, Hartney has found that it's possible proactively to prime oneself for life-changing insights. To do that, be alert to noticing personal reactions to situations. Be curious about those observations. Carve out time for reflection and then relax while waiting for a moment of clarity that can make all the difference.
Hartney is a performance consultant who works with leaders and professionals at multinational companies to help them to develop and implement effective strategies that bring out the best in themselves and their people. She specializes in helping others learn how to prime themselves for pivotal realizations. Learn more at http://www.DonnaHartney.com.