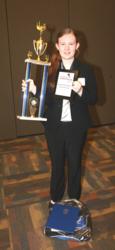 We all wish Megan the very best. But no matter how well she does, [we know] she is an upcoming bright star in America's future
Hamilton, OH (PRWEB) May 14, 2013
The Intel International Science and Engineering Fair (Intel ISEF) has just opened this year's competition in Phoenix, AZ and will run through May 17, 2013.
The Intel ISEF allows more than 1,500 precollege students from more than 70 countries around the world to compete for more than $3 million in prize money. It is the largest fair of its kind for students in grades 9 to 12.
This year, one of the contestants will be 14-year-old Megan Lange of Auburn, AL. Megan was recently awarded the "Best in Fair" prize in the Greater Eastern Alabama Regional Science and Engineering Fair for her project, which made use of the Kaivac ATP Rapid Monitoring System.
Because of her placing in this fair, Megan has received an all-expense-paid trip to Intel ISEF. Megan developed a project using an ATP Rapid Monitoring System to evaluate the cleanliness of computer keyboards before and after using various cleaning products and systems.
ATP stands for adenosine triphosphate. When found on surfaces (such as keyboards), it indicates organic materials are present. While the presence of ATP is not necessarily a danger in itself, its existence signals that pathogens that are potentially dangerous to human health may be on the surface. Hygienic cleaning can typically remove these pathogens.
Megan got the idea for her science fair project from her father, a doctor at Auburn University. "My daughter saw how it [ATP monitoring] works and its potential and came up with the idea. Apparently, it was a pretty good idea," said Megan's dad, Dr. Clifford Lange.
Says John Richter, Technical Director for Kaivac, "We all wish Megan the very best. But no matter how well she does, [we know] she is a bright star in America's future."