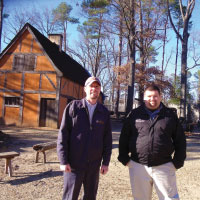 "I had full confidence in my team, and there was no doubt in my mind that we were up to the challenge."--Adam Eason, Bug Busters CEO
Farmville, VA (PRWEB) May 21, 2013
Bug Busters Pest Control, a Farmville, VA pest control company, was recently featured in the national industry publication Pest Control Technology for their delicate handling of a termite infestation at Jamestown Settlement, a popular tourist destination near Williamsburg, VA. The situation presented a unique challenge due to the fact that the museum's directors didn't want to shut down the facility for treatment, as it would mean the loss of revenue from some of the more than 400,000 visitors the site attracts every year.
Bug Busters tackled the problem by treating the infestation in the dead of night while the museum was closed. Termites were discovered in five structures of the re-created colonial fort, a replica of the first permanent English settlement in America. In order to get the job done in one night, Bug Busters launched an all-out assault using four service vehicles, five technicians, floodlights, and liquid termicide. In addition to the challenge of completing the treatment in only seven hours, the company also had to contend with several unusual environmental factors--such as making sure the area was safe for the hundreds of tourists who would begin arriving shortly after the treatment was finished.
"It was definitely one of the trickier jobs we've handled", said Adam Eason, CEO of Bug Busters. "However, I had full confidence in my team, and there was no doubt in my mind that we were up to the challenge."
Adam's confidence appears to have been well-placed, as his technicians found no evidence of termite activity at Jamestown Settlement in the months following the treatment. Successfully handling such a high-profile job earned high praise for his family-owned pest control company, and led to an article about the incident in the April edition of the nationally-distributed industry magazine Pest Control Technology.
"Having our company featured in a respected publication like PCT was a big honor", said Adam. "Receiving that type of recognition makes it much easier to build trust in the marketplace. When a homeowner sees that we have handled a situation like this, it gives him or her confidence that we can treat their home as well. No amount of advertising can buy that kind of trust."
The full article about Bug Busters and the Jamestown Settlement termite infestation can be found on the Pest Control Technology web site. Bug Busters is a family-owned pest control company based in Farmville, VA. For additional information about the company, contact Adam Eason or visit mybugbusters.com.