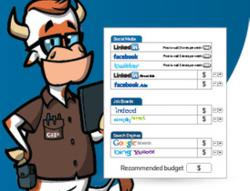 Montreal, Quebec (PRWEB) May 14, 2013
Herd Wisdom will launch a new release of its online recruiting app, Most Wanted, at the ERE Recruiting Innovation Summit to be held May 14-15 in San Francisco.
Originally released just over one year ago, Most Wanted has evolved based on customer feedback, expanding to include additional online recruiting tools requested by users of the app.
With this upcoming release, recruiters will now have access to a recommendation engine that will help them optimize their sourcing campaign with timely advice specific to their job postings.
The recommendation engine will help recruiters tweak their campaign settings with advice in many areas, such as how to:

Navigate social media recruiting with advice on how often to post to specific networks
Evaluate and choose additional options to promote their sourcing campaign, such as pay-per-click advertising
Optimize referral programs with help on setting appropriate reward amounts
Bolster effectiveness of referral campaigns with timely feedback
The new release also provides an improved mobile interface for job postings, as well as improvements to analytics.
New Employee Survey App on the Way
Along with the latest release of Most Wanted, Herd Wisdom will announce its upcoming survey app, Feedback Factory, at the 2013 Recruiting Innovation Summit.
Feedback Factory is a gamified survey tool that allows HR teams to collect feedback from employees throughout the year. The app facilitates ongoing evaluation, giving employers the ability to act quickly on trends or issues within their workplace by eliminating the time normally required to compile feedback. The fun and easy-to-use interface of Feedback Factory encourages participation by providing employees with points and rewards for their input.
Feedback Factory will be released in its first beta on June 24th, 2013.
For more information or to schedule an interview, contact:
Melissa Dawn Photiades
VP Marketing
mdawn@herdwisdom.com
514-939-0804 #104