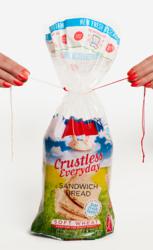 "The strings can be pulled closed and the bag reopened as many times as needed, allowing the bread to remain fresh and usable to the last slice." Paul Francis, Flexico UK
(PRWEB UK) 15 May 2013
According to the Department for Environment, Food and Rural Affairs (DEFRA) 32% of bread bought by UK households is thrown away uneaten, making it Britain's most wasted food. The anti-food waste organisation Wrap, claim that 680,000 tonnes of "avoidable" bakery waste is disposed of each year, about 80% of it from packs that are opened but unfinished, assumed because of expiry of best before date.
In order to help combat such waste Flexico Group is set to launch a simple yet ingenious packaging solution into the UK that will help consumers keep their bread fresher for longer and help reduce household food wastage.
The Cordogrip® double drawstring bag is a fun and easy-to-use bag that has been designed with the bread consumer in mind.
Paul Francis of Flexico UK explains: "With manufacturers of popular bread products all competing with each other for their share of the market, a product that is available in a highly consumer-friendly format can make the product more appealing and potentially more saleable."
The Cordogrip® bag is designed with a top and bottom gusset that allows the loaf to fit precisely inside and gives it a 'stand alone' feature making it ideal for both retail display and cupboard storage.
The bag is fitted with two strings in colours that can match any brand logo and works by pulling the top string in the opposite direction to the bottom string to pull close the opening. To open the bag, just pull the sides of the bag, above the strings, apart.
Paul says: "This can be done as many times as needed, allowing the bread to remain fresh and usable to the last slice."
The Cordogrip® bag also conforms to all standards of hygiene set by the food industry, making it ideal for fruits, confectionary, organic products and delicatessen items too.
For more information on Cordogrip® please contact Paul Francis of Flexico UK on 01206 230351
Email: paulfrancis(at)flexico(dot)info Visit: http://www.flexico.co.uk
For all media enquiries email: petra(at)thewriteimpression(dot)co.uk or call: 0845 5272 801