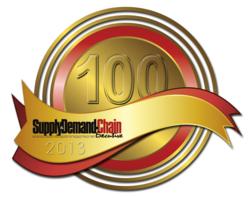 Chicago, IL (PRWEB) May 14, 2013
AFN an award-winning logistics and supply chain company, has been awarded Supply & Demand Chain Executive magazine's "100 Great Supply Chain Projects" designation link here. AFN's inclusion on this year's "100" list recognizes its leadership as a solution and service provider in assisting manufacturing and retail clients in the Supply Chain function.
The "2013 Supply & Demand Chain Executive 100" list includes supply chain solution and service providers that are helping their customers and clients achieve supply chain excellence. The winners have produced proven measurable gains in ROI through cost-cutting, and increased efficiency, whether in warehouse, transportation, procurement sourcing or any other category in the end-to-end supply chain.
The submissions were evaluated by the magazine's editorial staff primarily based on: ambitiousness/scope of the project (30 percent); creative application of technologies/solutions/services used (20 percent); extent of the business results/impact (40 percent); clarity of submission (10 percent).
AFN's award was based on its complete transportation solution for a worldwide leader in the manufacture and sales of zipper plastic bags. By outsourcing all shipment routing to a major national retail chain to AFN, the manufacturer was able to exceed its cost per unit goal and achieve 98.4% On-Time delivery. A case study on the project can be found here.
About Supply & Demand Chain Executive
Supply & Demand Chain Executive is the executive's user manual for successful supply and demand chain transformation, utilizing hard-hitting analysis, viewpoints and unbiased case studies to steer executives and supply management professionals through the complicated, yet critical, world of supply and demand chain enablement to gain competitive advantage. On the Web: http://www.SDCExec.com.
About AFN
Serving motor carriers, manufacturers and retailers since 2003, AFN (formerly known as Advantage Freight Network) is an award-winning leader in freight brokerage, third party logistics and transportation management services. We are known for our commitment to client service, our proactive approach to fighting cargo theft and our expertise in retail compliance. To learn more about AFN, visit http://www.loadafn.com or call 877-LOAD-AFN.