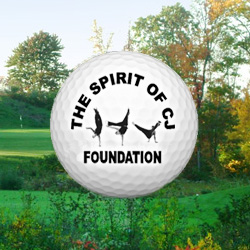 Hartford, CT (PRWEB) May 14, 2013
This Friday will mark the 10th annual Spirit of CJ Foundation golf tournament at the Tradition Golf Club in Wallingford. The tournament has been held each year since the foundation was formed in 2003 and though successful, this tournament will be the last time the foundation sponsors the outing. "Running the event has been very satisfying and very therapeutic but after ten years it's become harder to manage", says foundation co-founder Chris Carrozzella. To date the foundation has raised nearly $93,000 that is directed towards various charities involved with sports, the performing arts and education. After this year's tournament the foundation expects to surpass $100,000.
Carrozzella started the Foundation in 2003 with his ex-wife Elisa Sczurek following the death of their son CJ. In March of 2003 CJ, then a junior at Xavier High School in Middletown was involved in a major motor vehicle accident and died shortly after from injuries sustained from the crash. Devastated by the loss, Chris and Elisa banded together to form the Spirit of CJ Foundation to help keep the memory and spirit of CJ alive and well. Known for his outgoing personality, community involvement and participation in sports, CJ had a big impact on the many people he met in his brief life and his untimely passing left a void that is still felt to this day.
The annual golf tournament is the foundation's flagship event and is now celebrating its 10th anniversary. The foundation had to skip the tournament in 2006 but since then it has attracted support from all over the state. Past sponsors for the tournament, held at Traditions Golf Course in Wallingford, include Xavier High School, LT Creative, Barberino Nissan, Keyword Performance and People's Bank.
Due to the time and effort needed to keep the tournament going, Carrozzella has decided to indefinitely postpone the golf tournament making this Friday's event the last. "It's a great tournament and I'm thrilled with the support we've received over the years," Carrozzella says. "Unfortunately there are other practical considerations and right now I think is a good time to pause the event". Carrozzella won't rule out sponsoring tournaments in the future and he and Sczurek are committed to keeping the Spirit of CJ Foundation open and the charity viable.
Since its inception in 2003, the Spirit of CJ Foundation has disbursed the proceeds from the tournament to many people and organizations including the Wallingford YMCA, the hospital of St. Raphael, the Holy Trinity School, the Wallingford public library, and Xavier High School. The support the foundation receives from all who participate in the annual golf tournament and private donations allow the foundation to keep alive the memory of CJ's light spirit, kind heart and deep soul. For more information about the foundation, visit http://www.spiritofcj.org or call 203-284-1445.