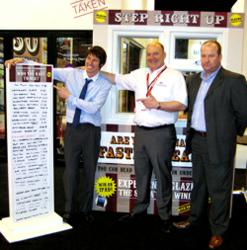 We have signed contracts for The FIT Show 2014. It was a tremendous, resounding success for Pioneer.
(PRWEB UK) 16 May 2013
Pioneer Trading was one of the first companies to book a stand at The FIT Show when it was formally announced last year – and it was a commitment that paid off handsomely, according to the company's managing director Danny Williams.
With a host of new products such as its New Wave Slide & Swing folding doors together with favourites including the company's renowned Signature Casement 'Europe's Best Window' and Signature Solar No Risk solar energy scheme for its dealers, Pioneer set up stall to face visitors with confidence and high expectations.
The New Wave Slide & Swing Doors in particular received a great deal of attention. When closed, the Pioneer New Wave Slide & Swing system has the appearance of a conventional bi-folding door. However, the sashes can each be individually slid and swung open and 'stacked' against each other to offer a full, unrestricted opening, or opened to suit the homeowner's preference. When closed, the Pioneer New Wave Slide & Swing Door system provides full security, weather protection and insulation.
"We took a lot of enquiries for the New Wave Slide & Swing doors as they offer a superb alternative to conventional bi-folding doors," said Danny. "And meeting visitors face-to-face paid dividends for our Signature Solar scheme when we were able to reassure visitors that solar is still a very viable opportunity and that all they need to do is make the introductions to their customers for this to be a very profitable addition to their product offer. Most things are better discussed face-to-face and The FIT Show offered us a real opportunity to do that.
"In fact," added Danny, "the whole experience was very exciting for all of us. There are some things I would improve – I would like a bigger stand for example but I liked the location we had. And promotions such as the web site makeover worked really well. My favourite though was the beading competition on one of our Signature Windows, with an iPad for the winner. Chris Maguire of Elegant Products, Barrow-In-Furness won that by beading the whole frame in just 36 seconds!
"We have signed contracts for The FIT Show 2014. It was a tremendous, resounding success for Pioneer."
Ends
Issued by VAST PR on behalf of Pioneer Trading Ltd. For further information, contact Paul Godwin on 0845 0945 775; email paul(at)vastpr(dot)co.uk. April 2013.
Editor's notes:
Pioneer Manufactures Windows, Doors and conservatories to the trade on two sites in Chelmsford Essex.
Pioneer Trading began over 20 years ago and is one of Synseal's longest serving customers. Pioneer employees have extensive experience and are highly trained with constant reviews of training requirements. The company's main trading area is the South East of England. The organisation operates a Quality Management System that has gained BS EN ISO 9001: 2000 certification, including aspects specific to the fabrication and supply of PVC-U windows doors and conservatory roofs.
The company's Signature brand has been developed to provide an exclusive network through which new products, marketing, sales support and training are provided. Begun with the Signature Window, said to be the 'most efficient window in Europe', a range of new home improvement ideas and concepts will be launched continuously using the qualities associated with the Signature brand.