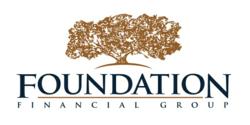 When the opportunity arose for hiring more employees, we were delighted to find compatible, enthusiastic professionals right here in Jacksonville.
Jacksonville, FL (PRWEB) May 23, 2013
Foundation Financial Group announced the recent expansion of the company's Marketing Division. Located in the company's Executive Headquarter offices at 76 South Laura Street, Suite 1400, the Marketing Division increased its staff by 200 percent, bringing much needed jobs to Jacksonville.
"I am very excited to welcome our new staff members to the FFG family," said Foundation Financial Group Vice President of Marketing, Jessica Gueterman. "When the opportunity arose for hiring more employees, we were delighted to find compatible, enthusiastic professionals right here in Jacksonville. This expansion was part of a strategic move that will enable the Marketing Division to continue supplying the same vibrant, professional marketing and public relations services to our growing clientele base as it does for Foundation Financial every day."
This expansion further increases FFG's downtown Jacksonville presence. During the first quarter of 2013, Foundation Financial expanded its established Jacksonville Mortgage Division by 33 percent and its Jacksonville insurance affiliate, FIS, by 50 percent. With an industry low turnover rate under 12 percent and a very selective hiring process, Foundation Financial Group seeks to employ the best and brightest of Jacksonville.
Over the last few years, Foundation Financial Group has realized significant growth. In 2011, FFG launched its insurance services affiliate, offering property, casualty and life insurance to its customers. The company has since added retirement services to its established mortgage services. In 2012, Foundation Financial launched five retail branch offices in locations across the country and it's Raleigh Insurance Services Division. The company also expanded its Jacksonville, Atlanta, and Savannah Regional Sales Centers. Among being honored for numerous awards, Foundation Financial Group made the Inc. 500|5000 list the last two years consecutively.
About Foundation Financial Group
Foundation Financial Group is a multibillion dollar financial services corporation. FFG offers its customers Best in Class service through its Insurance, Retirement and Mortgage Services. Named one of the fastest growing financial companies in the country by INC magazine, FFG has continued to grow its nationwide presence with over 100,000 new customers per year in 39 states. In addition to the value that Foundation Financial provides every customer, it is also dedicated to its communities and the people who live in them. Through a vast array of philanthropic endeavors the company not only provides significant monetary donations but also fosters a workforce environment that encourages all team members to personally make a difference. Foundation Financial is committed to its strong focus on customer service and community investment as it continues to grow and compete with the largest financial institutions in the world.
Foundation Financial Group reviews all public relations inquiries. For additional information, interview and image requests, contact the Foundation Financial Group Public Relations team.