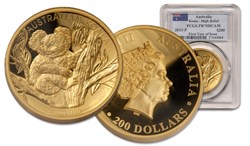 Minneapolis, MN (PRWEB) May 13, 2013
New York Mint®, a leading source and direct marketer of high-value collectible coins, is The Perth Mint's exclusive U.S. distributor for the 2013 2 oz. High Relief Gold Koala Proof set in 99.99% gold weighing in at 62.215 grams. The Perth Mint, the leader in creating high relief coin products, has designated New York Mint as the exclusive distributor for the High Relief 2 oz. Gold Koala Proof since the coin's first release in 2008. The Gold Koala was first introduced in 2008 in response to overwhelming collector desire for an Australian gold coin series depicting the Mint's popular Koala design theme. The demand for the 2 oz. Gold Koala High Relief Proof has remained strong - each of the releases from 2008 to present time has sold out at The Perth Mint!
The 2013 2 oz. High Relief Gold Koala will have a mintage of only 250 of which 200 are being sold by New York Mint to U.S. coin collectors. New York Mint sent its 200 Gold Koalas directly to one the top grading services, Professional Coin Grading Service (PCGS) and the coins were encapsulated and certified perfect Proof 70 (PF70), Proof 69 (PF 69) and Gem Proof. This legal tender coin includes a Koala on the branch of a Eucalyptus tree on the reverse and on the obverse, adorns Queen Elizabeth II with the $200 Australian denomination. The 2 oz. High Relief Gold Koala Proof includes a Perth Mint numbered certificate of authenticity.
New York Mint and The Perth Mint have been working together since 1995 to secure The Perth Mint's most renowned coin pieces for New York Mint customers. "It is a distinct honor to be the exclusive U.S. distributor of the 2 oz. High Relief Gold Koala coin by The Perth Mint again in 2013. The Koala product is one of the most admired and celebrated numismatic coins in the world, and it is a privilege to offer this exclusive product to New York Mint customers," said New York Mint President Bill Gale. New York Mint and The Perth Mint are continuing to work together on future Perth Mint product releases in 2013 and beyond.
About New York Mint
Since 1984, New York Mint, LLC® has been a private distributor of coin and currency issues and privately issued licensed collectibles. New York Mint provides collectors with one-stop access to some of the finest quality, rarest and most sought-after coins from worldwide government mints, shipwrecks, ancient hoards and exotic locales. The treasures secured by New York Mint span historic eras from ancient times, through the American Civil War, and up to the most contemporary milestones and events. New York Mint partners with the Smithsonian Institution®, government mints and monetary authorities, distributors and wholesale dealers worldwide. Recently, they were U.S. distributors for the London 2012 Olympic Games Coin Program. For additional information, visit http://www.NewYorkMint.com or call 800 642 9160.
Source: New York Mint
Contacts
Business Development: Sara Fehrenbacher (sfehrenbacher(at)amsi-corp(dot)com)