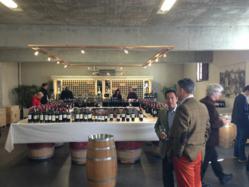 The concept of buying en primeur is easy to explain but has become less easy to rationalise.
(PRWEB UK) 17 May 2013
With the 2012 Bordeaux campaign now well underway, this year's eagerly anticipated pricing has been a hot topic for discussion.
In April, nearly 6,000 of the world's wine merchants and traders descended on the French city of Bordeaux to taste the product of last year's grape harvest from the region. These unfinished wines, samples drawn from the barrel before being bottled next year, are the subject of intense scrutiny as experts from around the world decide whether the vintage gets a qualitative thumbs-up or not. It is an opportunity for wine merchants to taste the wine before advising their customers on what to buy when the wines are released for sale en primeur over the course of the next month or two. "The concept of buying en primeur is easy to explain but has become less easy to rationalise " says Oliver Hartley, Sales Director of Corney & Barrow. Put simply, this is where consumers buy and pay for a case of wine from a merchant 12-18 months before the wine is actually finished, bottled and delivered. The rationale for doing so over many decades has been that in return for putting the money up front, consumers receive a better price, a choice of size of bottle they wish to receive and the guarantee of receiving a pristine, original case.
Over recent years, according to Corney & Barrow, the price of buying some wines in this way has risen by hundreds of per cent and the guarantee of getting a better price for paying early has largely fallen away – only a minority of wines made in this huge region have actually both risen and maintained their higher price. Plenty have risen and dropped again and many have simply either stayed static or actually fallen in value.
The 2012 vintage has a more cynical eye being cast over it than most and as stated in Decanter "customers are turning their backs on the vintage". With merchants and customers alike still reeling from the vast price rises inflicted on the market in the great 2009 and 2010 vintages, last year's 2011 vintage was a damp squib to say the least, says expert Corney & Barrow. According to the Wine Merchant, the wines themselves were actually pretty decent – not stellar but good. The trouble was that Bordeaux released the wines for sale in an irritating trickle over the course of three months at prices that, at best, paid lip service to the trade and consumers' demands for drastic price cuts. Corney & Barrow highlights that alongside this, there was growing resentment at the way in which consumers felt "fleeced" in the previous vintages which led to people almost willing the vintage to fail and people vowing not to buy these wines at any cost. Corney & Barrow concludes that everyone lost out as a result.
Since then, confidence in economies around the world has, if anything got worse so there is much interest in the prices of the 2012 Bordeaux vintage. As highlighted in Decanter indications are that the quality, although patchy, is better than 2011 and that wines in the communes of St Emilion and especially Pomerol (referred to as part of the "right bank") seem to be better than other areas.
Whilst everybody has been eagerly awaiting the 2012 pricing to be released, it seems many have been calling for a minimum a 15% reduction, with some suggesting 40% plus to be stripped away, says Corney & Barrow's Sales Director Oliver Hartley. What has been seen so far from this early campaign is around a 5-15% decrease on average from last year and with the campaign already over half way, "it has been an uphill struggle" according to The Drinks Business - the prices have not done enough to motivate consumers yet.
One thing is for certain, if Bordeaux have got the pricing wrong this year, they risk alienating consumers around the globe and destabilizing the traditional method of buying Bordeaux en primeur. Everybody is awaiting the end of the campaign with baited breath.
To find out from the producers themselves, click here for video interviews.
For over 200 years, Corney & Barrow has been a touchstone of excellence in wine. Today, just as in 1780, the wine merchant is distinguished by its passion and innovative spirit. It has nurtured wonderful relationships with both valued customers and the finest winemakers – estates producing magnificent classic wines, as well as pioneers breaking new ground with contemporary styles. Corney & Barrow has led the way in championing wines that have become internationally renowned and has an unsurpassed portfolio, from bottles offering outstanding value for everyday drinking to en-primeur cases for laying down. The company is honoured to hold two Royal Warrants and is equally proud to have set new standards in service and impartial advice for all its customers. Let Corney & Barrow transport you on a journey of discovery in the fascinating world of wine.
References:
26th April 2013, Rupert Millar, Drinks Business
5th May 2013, Jane Anson, Decanter Online
22nd April 2013, Steven Spurrier, Decanter Online