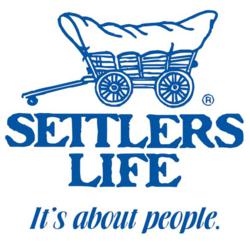 We are pleased with the look and feel of the new site, but especially with the expansion of customer information, tools, and services.
Bristol, VA (PRWEB) May 15, 2013
Settlers Life Insurance Company is excited to announce the launch of their redesigned corporate website, residing at the same address: http://www.settlerslife.com.
In addition to the fresh new look and feel, the site is organized to allow easy navigation by visitors, including consumers and agents. The homepage features a rotating banner, with images of typical policyholders and agents, that conveys Settlers Life's mission in providing "Peace of Mind" to the people it serves. In addition to sections "For Consumers" and "For Agents", the site includes "Customer Support", "About Us", and "Contact" sections.
The redesigned site adds a new feature – the "Final Expense Life Insurance Calculator". This new tool allows visitors to easily calculate the cost of items that may be included in their final expenses. The "What's Your Story" page gives visitors insight to significant life events that may prompt planning for final expenses. The new Careers section gives visitors information on how they might become part of the Settlers Life family or become a Settlers Life agent. Additionally, the "Customer Support" section has been expanded to allow policyholders access to the forms they need for requesting policy changes and reporting death claims. They can also find the answers to frequently asked questions. And finally, from the homepage visitors can view the latest Facebook posts and connect with Settlers Life on Facebook and LinkedIn.
Michael Lowe, President of Settlers Life, observes: "We are pleased with the look and feel of the new site, but especially with the expansion of customer information, tools, and services. We will work now to expand those into a comprehensive customer service portal. In the meantime, I know that visitors, policyholders, and agents will appreciate the attractive and professional new design."
Settlers Life Insurance Company is a member of the NGL Insurance Group, and maintains its primary administrative office in Bristol, Virginia. Settlers Life has 72 employees and more than 3,200 independent agents appointed in thirty-six states. Since 2007, Settlers Life has maintained an A. M. Best financial strength rating of "A minus" (Excellent), the fourth highest of sixteen such ratings. A.M. Best states that an "A minus" rating "is assigned to companies which have, in our opinion, an excellent ability to meet their ongoing obligations to policyholders." A.M. Best is the oldest and most widely recognized rating agency dedicated to the insurance industry.