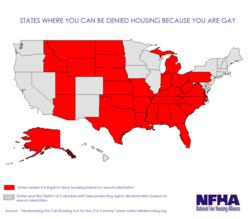 (PRWEB) May 16, 2013
According to a recently published report, most states have failed to protect the rights of the LGBT community when it comes to housing.
The National Fair Housing Alliance has recently addressed this matter in a report available at: http://www.nationalfairhousing.org/Portals/33/2013_Fair_Housing_Trends_Report.PDF. This report was released on April 11, 2013 and is meant to educate and enlighten the community at large about the huge problem with housing discrimination against the LGBT community.
The National Fair Housing Alliance is a powerful consortium of over 220 private and non-profit fair housing organizations, and state and civil rights agencies from all over the United States. The organization, which has been around since 1988, helps make sure that the LGBT community has equal access to apartments, houses, mortgages and insurance policies.
Recently, Rea Carey, the Executive Director for the National Gay and Lesbian Task Force, testified before congress that LGBT people "may experience outright hostility…may be subject to violence or property damage" during their search for housing. This is one reason why it is so important to ensure members of the LGBT community have easy access to LGBT/LGBT friendly realtors when looking for a home in any city... this can help prevent individuals from landing in a community where they may feel unwelcome, or worse. Additionally, the FBI has reported an increase in hate-crimes based on sexual orientation in the last three years. In 2012, National Fair Housing reported 175 complaints of housing discrimination based on sexual orientation and another 45 based on gender identity according to statistics available at their website at http://www.nationalfairhousing.org.
The report includes some real life examples of how gay couples can be turned down for housing by banks or condominium boards, and how often a reason will be "made up" to cover up for the prejudice or bigotry against LGBT individuals. There are also accounts of what can happen if a member of the LGBT community accidentally buys into a hostile neighborhood.
The sad fact is there are real estate agents that will say anything to get a home sold, including saying that a neighborhood is gay friendly, when it may be actually quite hostile to the LGBT lifestyle or gay couples. The result can be name-calling, damage to the property and violence, resulting in your need for an appeal to state and federal human rights commissions to set things right.
The states that do protect against housing discrimination based on sexual orientation include; California, Colorado, Connecticut, Delaware, Hawaii, Illinois, Iowa, Maine, Maryland, Massachusetts, Minnesota, Nevada, New Hampshire, New Jersey, New Mexico, New York, Oregon, Rhode Island, Vermont, Washington, Wisconsin and the District of Columbia.
Members of the LGBT commmunity can relocate and purchase a home safely and with peace of mind using the free resources of on-line databases like http://www.GayRealEstate.com.