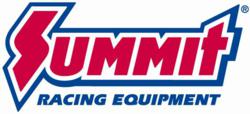 Tallmadge, OH (PRWEB) May 14, 2013
Summit Racing Equipment's annual Super Summit car shows have signaled the opening of "car season" in Northeast Ohio for over 20 years. This year, Summit Racing pulled out all of the stops and combined Super Summit and its annual TruckFest fall truck show into a giant two-day event on Friday, June 21 and Saturday, June 22.
Super Summit will feature a huge cruise-in, over 300 manufacturer displays, a car-crushing exhibition by the Summit Racing/BIGFOOT monster truck, the TEAM FMX motorcycle stunt team, and the Summit Racing Power Experience virtual racing theater.
Super Summit 2013 Information http://www.summitracing.com/expertadviceandnews/calendar/upcoming/summit-racing-super-summit-2013
Super Summit 2013 will also play host to several nationally recognized hot rods and race cars. Scheduled to appear are:
THE ORIGINAL HOT ROD LINCOLN
The car that inspired the legendary song Hot Rod Lincoln, written and recorded by Charlie Ryan in the early 1950s and famously covered by Commander Cody in 1972. Built by Ryan, the car sits on a shortened 1941 Lincoln Zephyr sedan chassis and features a 1948 Lincoln V12, a three-speed overdrive transmission, and a 1930 Ford Model A body. Ryan raced the Lincoln against a friend's Cadillac sedan, which became the main theme of his song.
More Information
SICK SECONDS 1969 CAMARO
Built to dominate Hot Rod Magazine's Drag Week competition, Tom Bailey's Camaro is a street-legal monster powered by a 615 cubic inch, twin-turbocharged big block Chevy that can make over 3,000 horsepower. Tom drove the Camaro during 2012's Drag Week, covering 1,000 miles and running a best of 6.94 seconds at 208 miles per hour.
More Information
SUMMIT RACING FACTORY FIVE Mk4 ROADSTER
Built by SKJ Kustoms, this project car shows enthusiasts how easy it is to put together a Factory Five Mk4 using Summit Racing's Factory Five Parts Combos. Hot Rod Magazine track tested the Mk4 and it ran mid-11s in the quarter mile. The 427 cubic inch 351W put 369 horsepower and 456 lbs.-ft. of torque to the rear wheels on Modified Mustangs and Fords chassis dyno. You can see the Mk4 on Hot Rod Unlimited TV on YouTube and the project build on Summit Racing's blog, OnAllCylinders.
Project Build
Hot Rod Unlimited Video
"THE RUNT" 1962 CHEVY II
Gerry Kerna's Chevy II (nicknamed "the Runt") won the Goodguys Muscle Machine of the Year award in 2011. Powered by a 650 horsepower LS7, the Pro Touring car was one of 50 automobiles invited to participate in 2011's Optima Ultimate Street Car Invitational, and has been featured in Chevy High Performance and Super Chevy Magazines.
More Information
Summit Racing Equipment
SummitRacing.com
1-800-230-3030