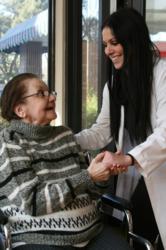 Middle Island, NY (PRWEB) May 13, 2013
Oak Hollow Nursing Center of Middle Island, NY is hosting a "Sports Center" themed week for their residents beginning Monday, May 13th in honor of National Nursing Home Week. The center has provided individual care to residents for over 30 years and continues to evolve, adding services to meet the progressing healthcare needs in the Long Island area.
The staff at Oak Hollow Nursing Center has daily events planned throughout the week including sports trivia, sports-themed movie showings, a tailgate party, staff sports games, and more. The residents will even receive a visit from the Long Island Ducks' QuackerJack! "The residents are especially excited about our Sports Bar Dinner on the 16th! They love the [dinner] choices," said Kathy Roeser, Oak Hollow Nursing Center Events Coordinator. The menu will include a buffet featuring wings, sliders, ribs, and other sports-inspired dishes.
Oak Hollow Nursing Center values providing a home and extended family to those they serve, and prides themselves on offering compassionate, loving care. Part of creating that atmosphere is bringing the residents and staff together to take part in activities and events that are fun and memorable. "Each year we have a different theme to celebrate a time where residents and employees can participate in fun activities together," said Oak Hollow Nursing Center Administrator, Michael Morrone. "It is a chance to bring us closer together and make the working and living environment that much better for those that work and live here."