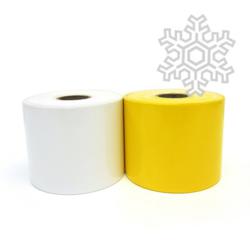 "We have total confidence in the performance the cold storage labels offer. Our products go through cycles of freezing and thawing and we never lost a label yet."
Lake Oswego, OR (PRWEB) May 15, 2013
Thousands of businesses today depend on cold storage for their product. Restaurants, meat markets, food delivery trucks, hospitals, schools, manufacturing plants, and even outdoor maintenance crews are just some of the ones that need industrial freezers and cold storage facilities to protect their inventory. Marking products for cold storage require special treated labels that will withstand low temperature environments. Labeltac.com is now offering LabelTac Cold Storage Labels for the market that requires labeling inventory in sub-zero conditions.
Cold storage labels can be applied in temperatures down to a minimum of -10 degrees. However, the service use range is -40 degrees to 200 degrees. Cold storage labels are like LabelTac.com other labels in that they are resistant to UV, water, chemical and are smear and smudge resistant. Completing labeling projects is quick and easy with the peel-&-stick adhesive back which is specially treated to function in low temperatures.
Cold storage labels have a freezer or deep freeze adhesive designed for businesses that are labeling items in cold storage, refrigerator, or freezer environments. This type of label performs very well in low temperatures and is designed to resist moisture that often occurs from repeated freeze and thaw cycles. The labels are durable and will adhere to most any type of material from plastic to cardboard storage boxes.
Cold storage labels can be a great solution for construction sites in northern parts of the country. Hazard, barricade, and safety signs can be displayed in areas under construction. This type of label will perform very well in the cold winter months giving assuredness and confidence that safety around the construction site is maintained.
A worker for a meat market commented, "We have total confidence in the performance the cold storage labels offer. Our products go through cycles of freezing and thawing and we never lost a label yet."
For more information about LabelTac Cold Storage Labels, please visit http://www.labeltac.com/ or call toll-free (866)777-1360 to speak with a professional representative.