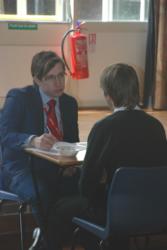 Without the involvement of local businesses like Aspire People, days like this would be impossible to organise.
(PRWEB UK) 14 May 2013
A Warsop secondary school, Meden School, is launching an "Aspirations Week" for Year 10 pupils to help them make decisions about life after school.
Aspirations Week 2013, will commence on Thursday, 18th July and aims to raise aspirations for pupils who have never considered a university education. The week will include trips to the University of Lincoln, Nottingham Trent University and University of Sheffield. Pupils will also take part in a "Varsity Challenge" day, competing in houses against each other in an array of sports, challenges and quiz style activities.
To top it all off, Meden School held an Aspirations Day on Friday 3rd May. Local business people from the Rotary Club and Aspire People, a Nottingham education recruitment agency, held mock job interviews for pupils.
Tim Gibbon, Strategy Support Manager at Meden School said: "Friday was our second annual year 10 Aspiration Day. The day is designed to give students an insight into their options after year 11 and to help them realise their full potential through better planning and understanding. The mock interviews are such a valuable part of the day for the students. To see their confidence lift as the day progresses underlines just how important it is. We would like to thank all the business that supported us on the day. Without the involvement of local businesses like Aspire People, days like this would be impossible to organise."
Adam Cox, a recruitment consultant for Aspire People said: "I currently provide supply teaching staff to Meden School so this was a great opportunity to give something back to the pupils. Aspire People always encourage us to take time out to help pupils, especially in areas where we have skills like interviewing. It was a real pleasure working with the students, I was able to give them some great interview tips and it was amazing to see them grow with confidence during their interview. I really enjoyed listening to their short-term goals and long-term ambitions. The day was a real success and Meden School staff and pupils were very welcoming. I would definitely recommend other businesses to get involved if they are keen to help the next generation."
Meden School is a mixed secondary school and Post 16 College on Burns Lane, Warsop, Nottinghamshire which has held academy status since September 2012.
Aspire People provide Nottingham teaching jobs in secondary schools. Established since 2005, Aspire People are already recruitment for NQT (Newly Qualified Teacher) Jobs in Nottingham.