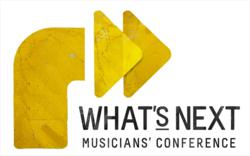 Namba Gear is proud to be a part of this important discussion. We need to be thinking about "What's Next".
Portland, OR (PRWEB) May 14, 2013
Namba Gear is a proud sponsor of the What's Next Musicians' Conference 2013. Namba Gear joins Line 6, Propellerhead Software, Topspin Media and other music industry leaders in sponsoring the What's Next Musicians' Conference. The conference will offer cutting-edge ideas and technology to help fuel the musicians' success.
Musicians and audio professionals are invited to explore the question of new business models and how the next generation of musicians will be heard through panel discussions with industry experts and guest artists, to live performances, breakout sessions, technology demos and more. WHAT'S NEXT will help musicians to chart their own path to success.
WHAT'S NEXT wants everyone to join the conversation, so all Musicians' Conference events are free of charge.
Woody Moran, owner of Namba Gear, commented, "Namba Gear is proud to be a part of this important discussion. We need to be thinking about 'What's Next'."
Each panel discussion will feature Craig Anderton (author, journalist and technology expert) as moderator, plus Marcus Ryle (Chief Strategy Officer, Line 6), Bob Moczydlowsky (SVP of Product & Marketing, Topspin Media) and several guest artists, producers, or industry leaders.
Classes cover subjects such as:
Live Sound Doesn't Have to Suck
See how to choose the right system for any gig, and dial in a great mix fast.
Make Every Gig and Rehearsal a Promotional Opportunity
See how to record rehearsals and gigs, create videos and post them to YouTube.
Wireless Without Worries
Separate fact from fiction and learn the truth about wireless.
Taming the Wild Guitar Rig (Craig Anderton)
Learn how to take full advantage of today's technology to create signature tones—live or in the studio.
TOUR DATES
New York – June 8, 2013
London – July 6, 2013
Los Angeles – August 2013
Tokyo – Sept. 14, 2013

About Namba Gear:
Namba Gear is a Portland, Oregon based bag and accessories company that designs and produces premium, high performance transport solutions for the working musician. The essence of the brand is defined by the working musicians and DJ's at Namba Gear who are dedicated to creating and delivering exceptional carrying solutions that will stand up to the unique and rigorous workload of professional musicians.