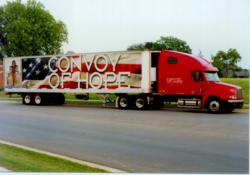 SPRINGFIELD, Mo. (PRWEB) May 14, 2013
International humanitarian organization, Convoy of Hope, is partnering with area local businesses, churches, government agencies and nonprofits in Frederick, Md., to host a community outreach event June 1 at the Frederick Fairgrounds. The event will help the poor and suffering. The Frederick community will provide more than $1 million in goods and services in a single day through food, clothing, job counseling, dental check-ups, haircuts, family portraits and a kids carnival.
Learn more about the outreach by visiting http://www.hope4frederick.com
"We'll be treating hurting neighbors as honored guests to a 'poverty-free day' by providing free food and groceries as well as introducing them to local resources for long-term solutions to poverty," says Hal Donaldson, president of Convoy of Hope.
This community event is one of dozens of stops along the a 50-state, $50 million tour of hope and help for the 46 million Americans currently living in poverty — the largest number on record according to the U.S. Census Bureau.
"I'm so thankful for all of these people who are here to help my family," said an honored guest at a recent outreach event. "My sons have new shoes on their feet! There's a lot of people like my family that need this kind of support."
Convoy of Hope is also working with the National Breast Cancer Foundation (NBCF) and Plum Organics at the outreach. NBCF will be providing education, support and early detection services to underserved women in the community. Plum Organics will provide guests with their organic baby, toddler and child food products.
About Convoy of Hope
Convoy of Hope, founded in 1994, has a long history as a first responder in times of natural disasters and has been a Four Star Charity as recognized by Charity Navigator for nine consecutive years. Convoy of Hope, a faith-based organization, has a driving passion to feed the world through children's feeding initiatives, community outreaches, disaster response and partner resourcing. Learn more at http://www.convoyofhope.org or follow us on Facebook or Twitter.
Convoy of Hope
Jeff Roman
Mobile: 417-942-7570
Public Relations Desk
jroman(at)convoyofhope(dot)org
or
Jeff Nene
Mobile: 417-860-2196
National Spokesperson
jnene(at)convoyofhope(dot)org
The Convoy Frederick
Michael Betteridge
Mobile: 301-639-4323
Media Relations
mbetteridge(at)wthu(dot)org