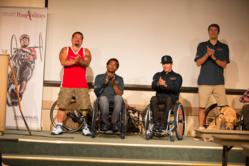 PossAbilities makes my dreams possible. Because of it, I get to be a part of something that is bigger than me. It has no limits.
Loma Linda, Ca (PRWEB) May 13, 2013
Four members from Loma Linda University's Team PossAbilities have been marked as hopefuls for the 2016 Paralympics in Rio de Janeiro. Not only do Andre Barbieri, Del Dunston, Owen Daniels, Jr., and Greg Crouse share the dream of participating in the next Paralympics, but they do not let their physical disabilities keep their dreams from coming true.
On Wednesday, May 8 at the 2013 Road to Rio Sports Luncheon they each got a little closer to their dream. Nearly $34,000 was raised through donations and sponsorships at the event to benefit these PossAbilities athletes. Funds will go to cover the expenses of coaching, travel, race fees, and equipment.
"PossAbilities makes my dreams possible," Barbieri said at the luncheon. "Because of it, I get to be a part of something that is bigger than me. It has no limits." Barbieri has worked with prosthetists at Loma Linda University Medical Center East Campus to develop a biking leg and a running leg and hopes to be a triathlon competitor at the 2016 Paralympic games.
Native to Brazil, Barbieri says it would be awesome to be in his home country competing in the Paralympics. "It would be my biggest accomplishment in life."
Paralympic medalist and former PossAbilities athlete, Rudy Garcia-Tolson was the guest speaker at the event and attributes a lot of his success to PossAbilities. Garcia-Tolson provided some words of encouragement to the four Paralympic hopefuls, as well as to all disabled individuals. "Doing these sports is a challenge for us, but the real disability is a bad attitude."
Greg Crouse's attitude is hopeful. While serving overseas as a cannon crewman in the United States Army in 1988, Crouse lost his left leg after a drunk driver struck him as a pedestrian. "Since I can no longer represent my country as a soldier, Team PossAbilities has been instrumental in helping me achieve my dreams to represent my country as an athlete."
Crouse is currently ranked number one in the nation in outrigger canoeing and hopes to secure the first ever Open Men's Para-canoe selection in Rio de Janeiro. "I want Rio so bad it consumes me. It is my dream."
To learn more about Andre and Greg's "Road to Rio" go to http://youtu.be/6xfCOkPoWWo.
The athletes were left with final words from Judy Fridono, who is the owner of "SURFice" dog Ricochet – the only known dog in the world that surfs with special needs kids and people with disabilities. "You can't help who you are or what happens in your life. Just let life be and live it." And that is exactly what these Paralympic hopefuls are doing as athletes with Team PossAbilities.
PossAbilities is a community outreach program developed by Loma Linda University Center East Campus and supported by founding partner, the San Manuel Band of Mission Indians. PossAbilities' goal is to offer physically-challenged people born with or have permanent physical injury a sense of community by offering activities and practical help.
PHOTO CAPTION: The four, Team PossAbilities, Paralympic hopefuls who are on the "Road To Rio" were recognized at the 2013 Sports Luncheon at Loma Linda University on Wednesday, May 8th. From left to right, Greg Crouse, Del Dunston, Owen Daniels, Jr., and Andre Barbieri. (Photo courtesy of, Brandon Barsugli)
# # #