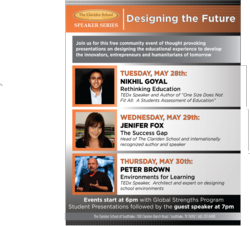 Southlake, TX (PRWEB) May 15, 2013
The Clariden School of Southlake will host a three-day educational change series featuring national educational expert speakers. Speakers include: Nikhil Goyal, 17-year-old author of "One Size Does Not Fit All" on May 28 at 7 p.m.; Jenifer Fox, Clariden Head of School, discussing The Success Gap, the space between parental expectation and student motivation on May 29 at 7 p.m.; and Peter Brown, Architect and expert on designing school environments, will discuss Environments That Foster Learning on May 30 at 7 p.m.
Prior to the speakers, students in the Global Strengths Program at The Clariden School will present their Presentations of Learning at 6 p.m. to panelists including local politicians, business and civic leaders. The student's presentations will be defining the future values, traditions, environment and curriculum that they believe will be central to the long term success of the educational system.
All events are free and open to the public and will take place in the gym on the school's campus, located at 100 Clariden Ranch Road in Southlake, Texas. Educators will be provided certificates of attendance for their professional and development files. For more information, please call 682-237-0400.
The Clariden School is a progressive school with a Montessori Pre-K-6 program followed by a challenging, customized, entrepreneurial program that builds student's strengths in 7-12.