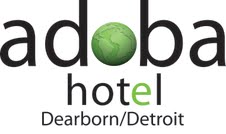 Dearborn, MI (PRWEB) May 14, 2013
Adoba Hotel Dearborn/Detroit announced today that it has partnered with Stash Hotel Rewards, the largest point-based loyalty program for independent hotels in the United States. As a result of the partnership, both leisure and business travelers that are members of Stash can now earn and redeem points at the Adoba Hotel Dearborn/Detroit, one of the nation's leaders in green hotel practices and sustainable ecotourism.
"The Stash Rewards Program enables elite-level, independent hotels like the Adoba Hotel Dearborn/Detroit to entice more corporate travelers, compete with large hotel chains, and reward loyal guests - which is a distinct advantage for us," said Adrienne Pumphrey, Global Head of the Adoba Brand. "We're able to use the Stash Program to provide guests with a more highly-personalized experience, which is very appealing to today's young, independent business travelers that are looking for something extraordinary to enhance their travel."
Adoba Hotel Dearborn/Detroit has customized the Stash program in a way that honors repeat guests and attracts new members. Stash members enjoy a complementary glass of champagne upon check-in and an organic cupcake with the VIP nightly turn down. Adoba guests who are not yet Stash members are also able to reap the benefits. Upon their initial reservation call, guests are informed of the Stash Program – and if they choose to join at that time, they receive a complementary suite upgrade. Adoba also utilizes digital reader boards to display Stash perks and promotions throughout the hotel.
Designed by renowned architect Charles Luckman, the Adoba Hotel Dearborn/Detroit features 773 guestrooms and is located between the Ford World Headquarters, and the historic Henry Ford Museum and Greenfield Villages. The property boasts 62,000 square feet of meeting and event space-including a rooftop ballroom, making it one of the largest conference centers in the area. Since this iconic property transitioned into the Adoba Brand in November 2012, the Adoba Hotel Dearborn/Detroit has quickly become one of the nation's most sustainable hotels.
"With 360-degree views, a soaring atrium lobby, and Northern Italian cuisine—Adoba Dearborn is a sophisticated take on the Motor City," said Jeff Low, Founder and CEO of Stash Hotel Rewards. "And if you're looking for an eco-friendly hotel, they've got serious green credentials: TripAdvisor just awarded them GreenLeaders Gold status."
Guests of Adoba Hotel Dearborn/Detroit can join Stash for free at http://www.stashrewards.com. Stash members earn 5 points for each dollar spent on eligible room rates and can redeem them at great independent hotels across the U.S. Stash points never expire, and redemption is simple, without blackout dates or category restrictions found in many chain programs. Stash partner hotels also provide members with exclusive travel deals.
About Atmosphere Hospitality Management:
Denver-based Atmosphere Hospitality Management http://www.atmospherehospitalitymanagement.com is a progressive, innovative new hotel management company. Atmosphere Hospitality Management has experience managing all recognized branded properties, restaurants and independent resorts. Impassioned to utilize sustainability as critical performance measure of revenue and service, Atmosphere Hospitality Management has a significant head-start as the hotel management company synonymous with green hotel design, construction and profitable sustainable practices.
About Stash Hotel Rewards:
Stash Hotel Rewards frees travelers from the uninspired offerings of existing hotel reward programs by making it easy to break free from big, bland hotel chains and stay at amazing hotels. Stash was founded on a belief in the happiness-producing power of traveling to places that convey a unique and interesting story – places with soul. It's a belief that is shared with the independent hoteliers and the independently-minded travelers the company was created to serve. Launched in May 2010, Stash was founded by a team of travel and e-commerce veterans from Expedia, Amazon, Microsoft, and Zillow. Stash is headquartered in Palo Alto with offices in Seattle and Miami. Travelers can easily sign up for a free account at http://www.stashrewards.com.