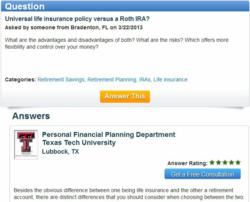 Consumers can ask any question they wish of highly skilled financial experts. They post their questions anonymously and receive their answers free of charge.
San Francisco, CA (PRWEB) May 14, 2013
NewRetirement today announced that Texas Tech University's Personal Financial Planning Department (TTU's PFP) is among the high quality providers of retirement planning knowledge made freely available to consumers at NewRetirement.com. NewRetirement.com and TTU's PFP share a vision of providing unbiased financial planning and knowledge to all Americans, regardless of their income, the amount of their investable assets or their level of financial sophistication.
Over the past decade, millions of individual consumers and family members concerned about their financial future have visited NewRetirement.com seeking to improve their retirement finances. Many of these visitors also have used NewRetirement's retirement calculator. Now, in addition to using the retirement calculator to assess and identify ways to improve their financial plan, consumers can leverage NewRetirement's social media platform to ask any question they wish of highly skilled financial experts. Consumers post their questions anonymously and receive their answers free of charge. Their questions can be posted either from within the retirement calculator or by participating in the open Question & Answer forum. If a visitor first receives a personalized analysis from the retirement calculator and then posts a question, a financial expert answering the question has the advantage of providing an answer that takes into account their unique financial situation. The financial experts can use this anonymous financial background information to provide a more detailed, accurate and customized response. An answer that takes into account each consumer's unique circumstances provides them with an immediate benefit.
NewRetirement's website visitors have asked questions and received answers that range from the broad & simple to the narrow & complex. Among the most commonly asked questions is, "How can I maximize the income I will have when I retire?" An example of a more complex question is, "Universal life insurance policy versus a Roth IRA? What are the advantages and disadvantages of both? What are the risks? Which offers more flexibility and control over your money?" Click on the questions to view the answers offered by master's degree candidates at TTU's PFP.
Steve Chen, NewRetirement's CEO, remarks, "We are extremely pleased to be associated with Texas Tech's PFP program. We have no question that the visitors to our website will benefit greatly from their contributions. They are an excellent complement to the other financial experts and consumers that pitch in to answer questions and help improve our website visitors' retirement finances." Dr. John Salter handles the relationship with NewRetirement for TTU's PFP. He is currently researching the role of reverse mortgages in retirement distribution management and cash management and is an active CFP® certificant and wealth manager. He notes, "We were very pleased to learn that NewRetirement has built a social media and technology platform capable of delivering financial planning knowledge to millions of Americans. They have done so in a manner that aligns well with PFP's vision of bringing sophisticated financial planning to everyone, particularly to those that often have the least access and greatest need for it, American families on Main Street. Combining our strengths magnifies the total benefit for all of these consumers."
About Texas Tech University's Personal Financial Planning Department. For the last two decades, TTU's PFP has been a leader in producing research, scholars and professionals focused on providing financial knowledge to families and helping them achieve their financial goals. The answers from TTU's PFP master's degree candidates on NewRetirement.com are provided as general information only. Although TTU PFP graduates are eligible to sit for the CFP® certification exams (one of four requirements to become a full-fledged CFP® professional), no warranty is made regarding the fitness or accuracy of the information provided in their answers. Consumers should always seek advice from a licensed CPA, attorney or Certified Financial Planner™ as to their unique financial situation.
About NewRetirement Founded in 2004, NewRetirement's mission is to make quality retirement planning available to everyone – online in an easy to use and understand format. Each month, the NewRetirement website serves hundreds of thousands of consumers seeking to improve their retirement financial situation. Annually, NewRetirement connects tens of thousands of these visitors with the products and services that best suit their needs. NewRetirement.com's corporate headquarters is located at 100 Pine St, Suite 590, San Francisco, California 94111. Please reach Paul Lowrey, Director of Marketing, at 888-411-RETIRE (888-411-7384). Please send email inquiries via the site's Contact Us page. The website URL is http://www.newretirement.com.